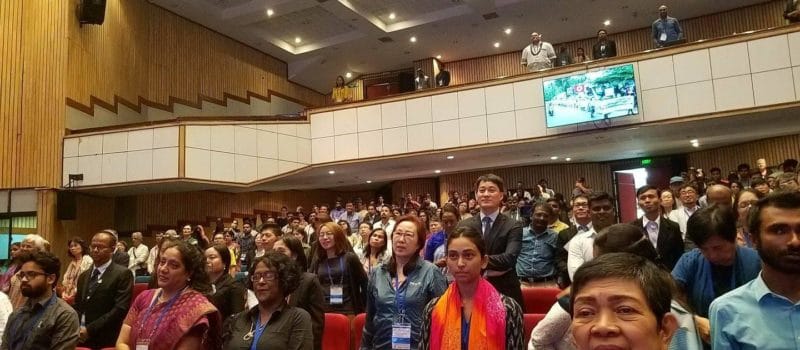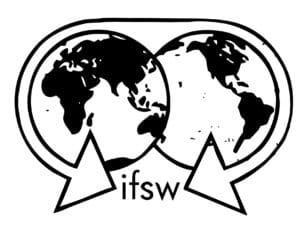 Prepared by IFSW Secretary-General Dr. Rory Truell and endorsed by delegates from 33 countries at the 25th Asia-Pacific Social Work Conference (APSWC 2019), Bangalore, India
It is fitting to launch this statement for the 2019 International Day of Peace in India and on the 150th anniversary of Mahatma Gandhi.
Mahatma Gandhi has had an immense influence on the international social work profession. His thoughts and actions on constructing holistic, peaceful systems to achieve independence, liberation, and freedom, reach to the very heart of the profession.
Since Gandhi, social workers have advanced many of his concepts in communities and societies throughout the world. In situations of conflict, social workers have been bringing divided communities together, creating safe spaces that allow people to understand their joint rights and lack of them. The social workers facilitate new ground-up visions, beyond the violence, of shared futures where children will have freedom, security, confidence, and opportunity.
The social work approach to building peace in situations of conflict is not the easy road – it is exceptionally complex, dangerous and requires enormous courage. Social workers advocate for all people's rights which is often different from their society's leaders who demonize opponents, subsequently, social workers are treated with suspicion by the authorities on all sides. Yet, when peace comes, it is the stories within the communities that reveal how social workers bought people together, created new approaches and supported peace from the community level upwards.
Mahatma Gandhi's multidimensional approach has also reinforced the social work role in the struggle for freedom and sustainable peace. The construction of social services, education systems, gender equality, the rebuilding of local economies and the concept of 'self-rule' – self-led development – and people's participation in all decisions that affect them are all core foundations in both Gandhian, and social work approaches; measures that are the building blocks to fair, just and peaceful societies.
To conclude this brief statement here at the Asia-Pacific Social Work Conference in India, on behalf of IFSW, we acknowledge the legacy of Mahatma Gandhi on the millions of social workers worldwide and the significant impact they have had on building ground-up peace processes. We further acknowledge the social workers in conflict situations who heroically facilitate civil society peace action – and we acknowledge all social workers who every day play a fundamental role in building and maintaining peace through supporting rights, services, dignity, self-empowerment, equality and interdependence of all in societies.