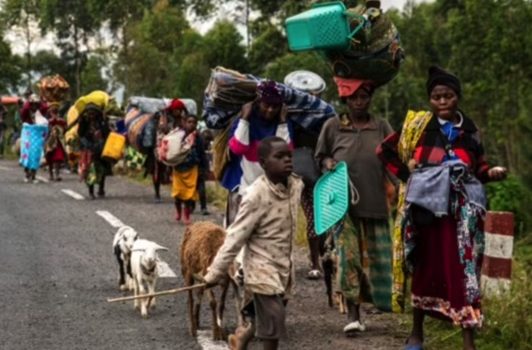 Photo: People escaping war in the Democratic Republic of Congo
War and violence continue to rage in the eastern part of the Democratic Republic of Congo (DRC) causing significant pain trauma and loss of life, but this dire situation is virtually ignored by the Western governments and media.
Only a few from within DRC reap the rewards of extensive natural resources, along with multinational companies and governments that doubly exploit this situation, first by extracting minerals with cheap labour, and secondly by not paying their taxes in the DRC. This situation cripples the economy for people, increasing fear and stress, fuelling the violence in the eastern part of the country.
This year, the DRC will be going into a general election, but the security situation remains unstable and very complex. Social workers in this situation are facing many challenges in their communities as a result of this complex dynamic of international exploitation and the failures of local government. The social workers work tirelessly in their communities to strengthen relationships to reduce violence, facilitate the co-building of local economies and advocate to end the super-exploitation of their country.
The lack of international awareness of the plight of the people of DRC needs to change. This statement is a contribution to building global awareness of our international responsibility to each other. In recognizing that the people of DRC are living in turmoil that is generated primarily by outside exploitation. We call on the IFSW members and others, not only to support our social work colleagues in the DRC, but also to take action in our own countries to raise awareness of this exploitation and fulfil our responsibility in stopping the actions that result in these perpetual cycles of violence and corruption.
Notes on DRC:
The DRC, about the size of Western Europe, is the second largest country on the continent of Africa. The country boasts exceptional natural resources which include mineral deposits such as cobalt, copper, uranium, gold etc. as well as great hydroelectric potential, vast arable land, tremendous biodiversity and the second-largest tropical rain forest in the world. Despite the abundant natural resources, the people of DRC have not benefited from the natural resources. The subsequent extreme poverty results in the protracted succession of conflicts, instability, political unrest and authoritarian regimes leading to persistent humanitarian crises with huge populations internally displaced.
In brief, the history of the last decade of conflict in the eastern part of the DRC started with National Congress for the Defence of the People soldiers' mutiny against the DRC government. The Mutineers formed a rebel group called the March 23 Movement (M23), also known as the Congolese Revolutionary Army. The recent escalation of conflict between the M23 rebels and government forces has resulted in a large number of the population, mostly women, children and the elderly, ending up in the Kanyarucunya camp for the internally displaced persons whilst thousands more have been killed and their villages destroyed.