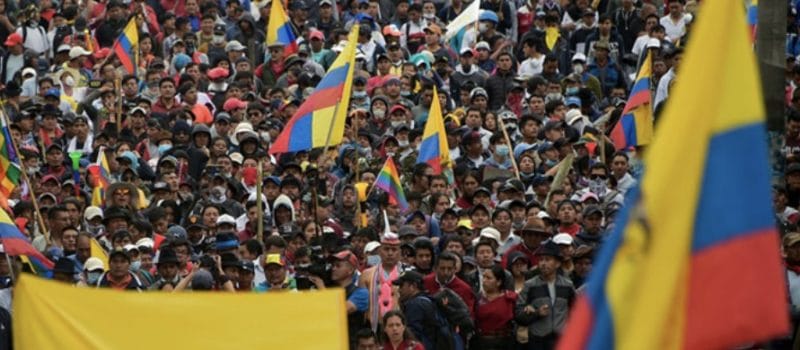 Pincha aquí para leer la versión en español
The Ecuador government has accepted the terms and conditions demanded by the International Monetary Fund (IMF) in return for financial support.
The austerity conditions demanded by the IMF include increasing fees on all government services, prohibiting the central bank form public lending, decreasing tax for the wealthy, removing subsidies for petroleum which will impact the on poor people as the cost of public transport will also increase. The IMF is also insisting on changes to the labour laws, dismantling the worker's protection systems as well as cutting the salaries of public servants.
These combined measures will reverse all the gains made to reduce poverty and realize the rights of citizens over the last twenty years. The Ecuador poverty rate dropped from 64% in 2000 to 21%.
The IMF stance of austerity significantly undermines human rights on a massive scale. This approach not only diminishes the quality of life for the majority of citizens, but it also forces migration, strips citizens of their health and security, as well as driving-up unemployment. IMF policies forced on Greece after the 2008 economic depression resulted in the Greek economy developing significantly more debt, higher unemployment and more long-term costs related to health and social services cuts. Other countries that originally had higher levels of debt than Greece in 2009, recovered fully within a short time by expanding public spending and maintaining services within their countries. The situation in Greece will take generations to repair as it will in Ecuador if the IMF strategy is not stopped.
As an organization with consultative status to the United Nations, IFSW calls on the UN to act against the IMF mandate of austerity, (the IMF is under the umbrella of the United Nations). Austerity drives down human rights, health, wellbeing, citizen empowerment and hope for the future – this is 100% inconsistent with the UN Sustainable Development Goals.
IFSW supports the indigenous-led peaceful protest in Ecuador and encourages international solidarity that resists the IMF austerity mandates. It is people's right to protest and resist their livelihoods, country and futures being dismantled. As social workers, we encourage immediate dialogue between the Ecuadorian government and the indigenous peoples, protestors and social movements.
Social work defends human rights and stands against austerity.
Issued by:
Silvana Martinez
IFSW President
and
Rory Truell
IFSW Secretary-General