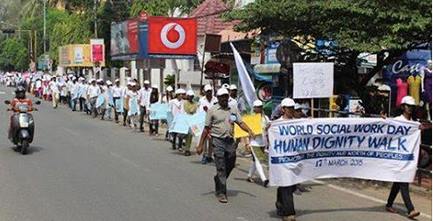 IFSW Secretary-General, Rory Truell is delighted to announce that India has become a member of the Federation. "It has been a long standing wish of social workers from throughout the world that India would become a member of IFSW and now it has been achieved", he said.
India was successfully admitted into full IFSW membership this week following a postal ballot from other IFSW members on the application from The India Network of Professional Social Work Association (INPSWA).
In accordance with the IFSW constitution, only one member per country representing social work nationally can join the Federation. When there is more than one professional association or organisation in a country, they need to form an agreement to work together and democratically share their IFSW membership and single vote.
Difficulties in the past for India's admission into IFSW included that there have been multiple social work associations separated by geographical challenges and lack of resources. However, last August six Indian professional associations met to form a new India wide organisation that created a new level of national social work unity and paved the way for admission into IFSW.
The INPSWA members are:
Indian Society of Professional Social Workers, founded in 1970.
The National Association of Professional Social Workers, founded in 2014.
The Karnataka Association of Professional Social Workers, founded in 1977.
Kerala Association of Professional Social Workers, founded 2013.
Professional Social Workers Association, founded 2004.
Bombay Association of Trained Social Workers founded, in 1989.
"It is an exciting moment for professional social workers in India", said Sriganesh Venkatanarasiah, Secretary General of INPSWA. "We will be glad to work with social work fraternity across globe and strengthen IFSW and feel proud to be a part of global community of professional social workers". He thanked the IFSW Secretariat for guiding INPSWA through the membership application process and all the IFSW members for voting for the application.
Mariko Kimura, IFSW Regional President for Asia-pacific said, "On behalf of IFSW Asia Pacific Region, I would like to congratulate and welcome India on having been accepted as a full member of IFSW.  India holds abundant resources and potential for their contribution to the development of the professional social work networks in the AP Region.  I look forward very much to working with India"
"We are witnessing history in the making", said Rory Truell, "India's long and powerful history of social work now stands shoulder to shoulder with the world-wide profession. The voice and experience of Indian social workers will have a positive impact on our global work as the profession moves forward facing the globalised challenges. Furthermore, the joining of the Professional Associations in India strengthens the profession at the national level and elevates the important contributions of social work in Indian society. This is a historic moment of significance and IFSW fully congratulates all of the Indian social workers that have turned this vision into a reality", he said.
END