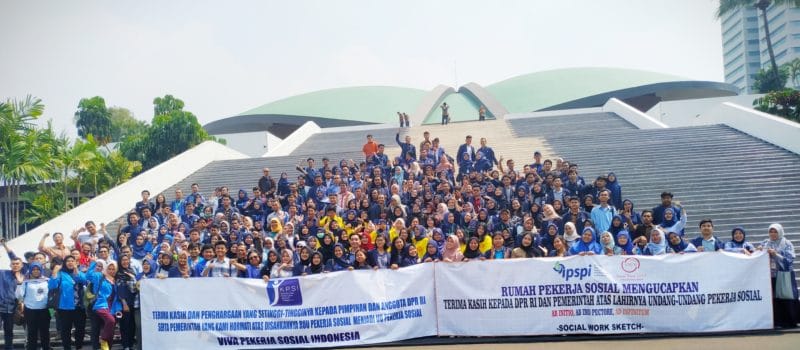 We feel the need to share this happy and exciting news. At least, the correct phrase to express our situation now is the words from Eleanor Roosevelt who said: "With the new day comes new strength and new thoughts". There is a belief among Indonesian that September brings joy and happiness, and so we call it "September Ceria" (Joyful September).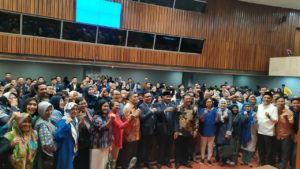 There are two big moments that involves emotion and soul of social workers in Indonesia. The first one is the sixth congress of Indonesian Association of Social Worker (IASW) and the inauguration of the Law of Social Workers (3/9) by the House of Representatives of the Republic of Indonesia (DPR). Truly, these two moments became a bright spirit to color the month of September. So it's only natural, the term above (Joyful September) describes the moment of happiness for Social Workers in Indonesia.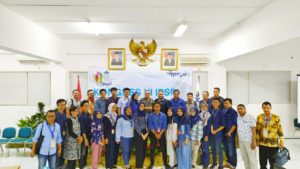 IASW is an active member of the International Federation of Social Worker (IFSW), just held the sixth congress (1/9) in Bandung, Indonesia. The congress has chosen 1 President to lead for a period of 2019 – 2022. There are a few registered candidates for the position, including the previous President who lead from 2016 – 2019. Victory sided with Drs. Widodo Suhartoyo, MSc with 13 out of 25 votes that was represented by the Regional Management of the association of social worker. All representatives accept with open arms. The reason is because the new chosen President is more humble and able to embrace all representatives with the diversity and uniqueness of each member in Indonesia.
As an archipelagic state with a total population of 270 million citizens and 17.504 islands. The number of Social Worker right now reaches around 15.552 people that work under government, NGOs, and other communities. The needed ratio is still far from actual needs. The amount of recipient of social welfare services (PPKS) reaches 15,5 million people. The index ratio is 1: 1000. We need more social workers in a various setting to answer challenges and social problems in Indonesia.
There are many home works to do, after an advocacy struggle for 7 years since 2012. Finally, the social worker law was passed. Revamping the management system of regulating social work professions, government regulations and regional government regulations must continue to be advocated. Strengthening the capacity of social workers, and supervising practices and collaborative partnerships will continue to be improved.
Finally, the legislation product that is currently agreed is a strong legal basis for social workers to be able to work. Indonesia became the third country in ASEAN that has a Social Worker law as a formal legal basis in the implementation of social work practices and legal protection for social workers. Congratulations to Indonesian Social Workers, Viva Social Worker!
 "Don't ask what Social Workers can do, but give them opportunities to work professionally and be amazed by the outcome!" – Social Work Sketch –
Writer: Maykel Ifan S, M. Soc *Indonesian Association of Social Workers, Founder of Social Work Sketch & House of Social Worker