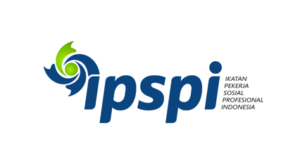 Jakarta, 20 April 2020
For the sake of our safety, the anniversary of World's Social Work Day, which we had prepared, must eventually be canceled due to the spread of COVID-19 in Indonesia.
Since then, IPSPI as the Social Workers Organization has to turn its attention and programs into emergencies because Indonesia has indeed declared COVID 19 as a national disaster. For this reason, IPSPI is starting to explore cooperation with the government by conducting various activities, among others:
In collaboration with the Ministry of Social Affairs to join forces with psychosocial support services cluster team, which compose of various sub-clusters such as social, education, sanitation, religion, gender, health and mental health, facilitated by UNICEF Indonesia. This has been a vessel for coordinating various efforts of handling COVID-19 and identifying the needs as well as the discrepancy of public services.
IPSPI has also joined with the cluster teams of Mental Health and Psychosocial Support (DKJPS) under the coordination of the Director of Prevention and Control of Mental Health Issues, Ministry of Health and facilitated by WHO, Indonesia. This team assembles guidance of Mental Health and Psychosocial Support from various professional perspectives, among them are psychiatrists, psychologists, nursing psychiatrists, social workers and public health. These comprehensive guides have needed several revisions as a reminder of the rapid ongoing change amidst the COVID-19 pandemic.
Members of IPSPI have joined in psychoeducation efforts with the Psychosocial Rehabilitation Network of Indonesia, promoting mental health and psychosocial topics through radio broadcasts, podcast and webinar.
With the coordinated acts listed above ongoing, IPSPI quickly assembled the Social Work Practical Guide Responding to the COVID-19 Pandemic. This guide is then spread throughout stakeholders and state representatives involved in the practice of Indonesia's social work.
IPSPI has also assembled a strategic set of steps to form service programs titled Psychosocial Support Services Program in Response to COVID-19. These services come in the form of 1) Psychosocial Education services, 2) Hotline services; 3) Online counseling services 4) Referral services. IPSPI has done recruitment, selection, refreshing training and simulation alongside accompaniment and surveillance for social workers volunteering in this program. This program perform with daily work schedules as long as weekly webinars on a national scale as well as international.
This program serves to minimalize the psychological and social impacts as the consequences of the COVID-19 pandemic.  Therefore it is expected that the public undergoes acceptance and able to adapt to the situations caused by COVID-19; helping them identify negative emotions and the potential they experience/have; facilitate the public in terms of the support services needed as well as help society find the power within it to commit to their actions in the future.
The targets of this program consists of two large groups, the first being an internal group consisting of social working colleagues, volunteer workers and the second being an external group consisting of various medical staff.
While this program is ongoing, appreciation from the Ministry of Social Affairs through the Center for the Professional Development of Social Workers and Social Counselors, offering IPSPI to collaborate duplicates the service programs as to reach a wider demographic as well as increasing the capacity of all civil servant social workers. Now this in the planning stage towards implementation.
Now we are aware of the gap between the services available and those who cannot access long-distance services or online services. This is partly due to Indonesia's large population (4th largest in the world) and very widespread geographic positioning with many remote areas that are difficult to reach, not considering subgroups undergoing different stages of poverty.
This COVID-19 pandemic is an incredibly recent event for the world at large, bolstered and us by how fast information spreads regarding COVID-19, pushing us to move forward and adapt with our surroundings to fit smoothly within that dynamic.
With our large commitment to the wellbeing of humanity, fairness and human rights, IPSPI will work alongside all parties involved with the fight against COVID-19 in order to prioritize those who are vulnerable and marginalized.
Further information regarding IPSPI can be accessed through our website:
www.ipspi-indonesia.com; Instagram @ipspi.official and Facebook Homepage @IPSPI-Ikatan Pekerja Sosial Profesional Indonesia.
Contact Person:
Widodo Suhartoyo (President) email:
Nurul Eka Hidayati (Vice II- head of cross-institutional collaboration and collaboration) email: