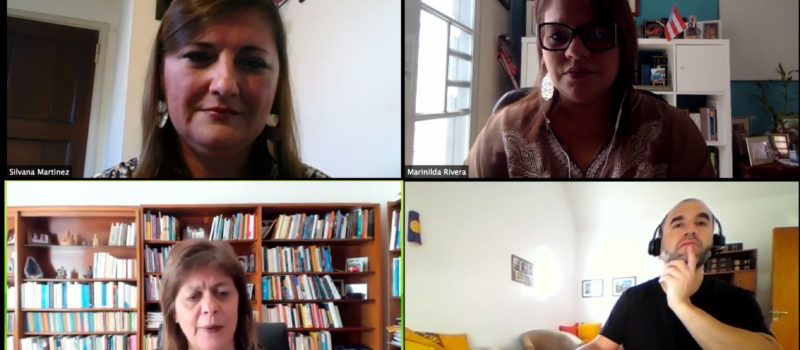 On September 15, 2020, the President of the International Federation of Social Workers (IFSW), Dr. Silvana Martínez, met with the President of the Latin American Council of the Social Sciences (CLACSO), Dr. Karina Batthyány, to sign an International Cooperation Agreement between both organizations.
CLACSO is an international non-governmental institution with associative status in UNESCO, created in 1967. Currently, it brings together more than 660 research and postgraduate centers in the field of social sciences and humanities in more than 50 countries.
"The signing of this agreement between our Federation and CLACSO strengthens the training and production of knowledge of Social Workers through joint research, participation in events and postgraduate courses with prestigious international intellectuals. It is also a significant event to prioritize the profession and make visible the research that IFSW members have been carrying out on a global and regional level. We are convinced that research and professional intervention are inseparable dimensions of our profession. We are very happy to announce this signing of the Agreement", expressed Dr. Silvana Martínez, President of the International Federation of Social Workers.
Also present at the siging was Dr. Marinilda Rivera Díaz, representative for the Latin America and the Caribbean Region of the IFSW Education Commission and coordinator of the CLACSO International Health and Sanitary Sovereignty WG, has generated this initiative, as well as Dr. Pablo Vommaro, CLACSO Research Director.
In this meeting the objectives and actions that are being developed at the international level of both IFSW and CLACSO were addressed; the importance of this articulated and collaborative work; and the actions to be developed between both institutions following the signing of the Agreement, among other relevant issues. One of the agreed actions is joint training within the framework of the proposals that have been deployed in CLACSO and others that may arise from the IFSW, where IFSW members will be able to obtain preferential treatment in terms of registration costs for the virtual training courses. Likewise, it was agreed to develop joint calls for funding research projects on topics related to Social Work and Social Sciences. It was also agreed in the short term to start a joint investigation in order to present the progress at the next CLACSO Conference, which will take place between November 7 and 11, 2021 in Mexico.
Similarly, the IFSW will count with spaces such as colloquies, panels, etc., in the most important event for the Social Sciences at an international level. On the other hand, it was agreed that CLACSO members will have different rates for the activities organized by the IFSW, the possibility of publication in the International Social Work Magazine, socialization, debates, training and production of knowledge between both organizations, mainly strengthening the South-Global South line, as well as the dissemination of the calls and CLACSO activities on the IFSW website, among other collaborative actions.