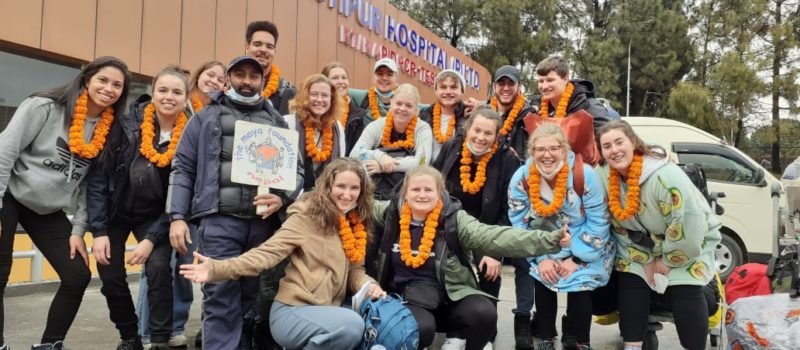 Photo: HAN BISW students arriving for fieldwork placement in Nepal at the Maya Foundation
This week, the Bachelor of International Social Work offered by HAN University in the Netherlands was endorsed by IFSW in the first-ever pilot peer review.
The peer assessment conducted by the IFSW Education Commission, included the Dutch National Association of Social Workers (BPSW) as well as HAN social work staff, students and representatives of their international practice networks. Chair of the peer review process, IFSW Global Education Commissioner, Professor Vasilios Ioakimidis said,
 "HAN´s BISW is a unique programme offered in English to students throughout the world. It is fully focused on collaborative learning between local agencies in a range of countries. The students are integrated into multiple approaches to social work organised through Social Impact Hubs that are designed to meet the social and development aspirations of local communities. I am also very impressed that HAN includes working with the local national associations of social work. These approaches bring together people that use social work services, the national profession, social work departments of local universities and international students to co-create outcomes. The BISW demonstrates a model that will be of significant interest to other teaching environments´.
Arjen Nieuwenhuis, head of the HAN Social Work Department thanked the IFSW Education Commission for participating in the peer-review. He commented,
 "HAN has worked hard over many years to ensure that our courses are built collaboratively with staff, students and people that use services. Our aim is to provide stimulating and creative approaches to education that prepare students to confidently and successfully engage with people and communities seeking positive change. It was through this process that the BISW emerged. We are delighted that this programme is recognised by the international profession and the growing enrolment numbers, as students from throughout the world seek an international classroom setting and exposure to a wide of range practice approaches."
The peer assessment utilised the recently agreed Global Social Work Educational Standards developed by the IFSW and The International Association of Schools of Social Work. These standards were created through mass consultation in response to calls from social work departments that wanted to demonstrate that they meet international guidelines or to provide evidence to their management structures that improvements need to made.
The HAN Bachelor of International Social Work was the first programme globally to be endorsed by IFSW. Other programmes in South Africa are currently going through a peer assessment process. Social work schools in any part of the world wishing to work towards or demonstrate IFSW endorsement of their programme can contact the IFSW Education Commission.