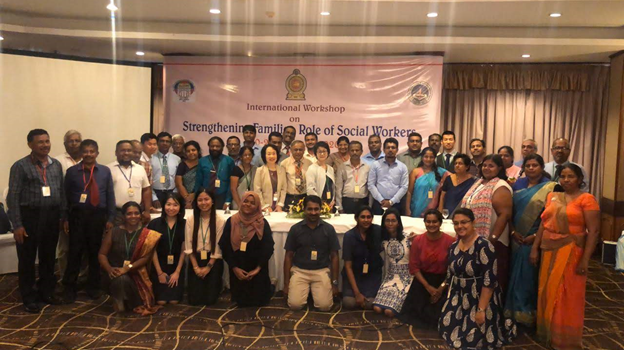 Last January 20 and 21, social workers from Sri Lankan, Japan and Cambodia met in Colombo, Sri Lanka hold an International Workshop on Strengthening Families: Role of Social Workers
The Japanese Federation of Social Workers proposed to have a collaborative international workshop with the Sri Lanka Association of Professional Social Workers as an initiative they have taken to promote social work in the Asia-Pacific region.
The SLAPSW had full responsibility in organising it. Social workers have witnessed that family influence over individuals is significant in Sri Lanka. Further, we have seen that the family size, structure, functions have been changing due to the rapid socioeconomic changes taken place in the last five decades in the country. There are new challenges faced by the families and social workers should be knowledgeable and develop new strategies to face them. The SLAPSW selected the theme of the workshop to make social workers aware of them.
The presentations and discussions were on families in transition, the need of family policy, childcare and protection and the role of social workers in strengthening families.
Hon State Minister of Social Welfare inaugurated the workshop. A report will be prepared and presented to the government and other relevant organizations.
The participation of Ms. Michiko Hirata, International Committee Member of IFSW and Dr. Mariko Kimura, immediate past president of IFSWAP, international Chair of JFSW was very significant and helped us to enhance the functioning of the workshop as well as networking and the capacity building of our membership.