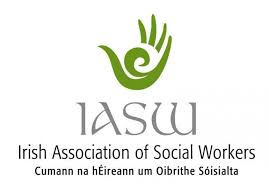 In the aftermath of the recent brutal killing of George Floyd and other Black people at the hands of the police in the United States, the Irish Association of Social Workers condemns racism in its various manifestations throughout the world. The IASW stands in solidarity with the Black community, with the Black Lives Matter protests and with the National Association of Social Workers in the USA and expresses solidarity and support to NASW at this time.
In particular we stand in solidarity with Black social workers and those of ethnic and minority backgrounds and value their contribution to the profession here in Ireland and internationally, many of whom also face discrimination and prejudice in the workplace and in wider society. As social workers, we must be vigilant to the manifestation and impact of racism on Black and minority ethnic colleagues and challenge beliefs and actions of those persons who devalue, stigmatise, or discriminate against others.
We need to challenge and seek to address any actions of colleagues who demonstrate discrimination or prejudice. As outlined in the IFSW Ethical Principles social workers must bring to the attention of employers, policymakers, politicians, and the public situations in which policies and resources are inadequate or in which policies and practices are oppressive, unfair, or harmful.
In accordance with the CORU Code of Ethics for Social Workers, we should promote social justice in our practice through challenging negative discrimination and unjust policies and practices respecting diversity, different cultures and values and through advocacy and work towards social inclusion.
Social workers need to take the lead in recognising our own prejudices to ensure that we do not discriminate against any person or group and that our services are offered and delivered in a culturally appropriate manner. As individual practitioners and members of the Irish Association of Social Workers we must commit to self-examination and reflective practice in this regard.
As an Association we commit to anti-racist and anti-discriminatory practice, to identifying, discussing and challenge issues of race and the impact they have on our organisation and to providing within our CPD programme, training that supports and promotes anti-discriminatory and culturally sensitive practice.
We recognise the need to have a more culturally inclusive education and intervention methods and commit to contemporise and 'decolonise' existing Eurocentric social work education and practice, which are no longer relevant to the current Irish social workforce and the multi-racial and multicultural population it serves.