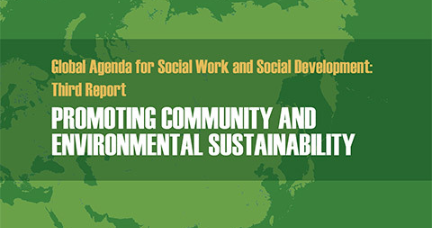 Dublin, Ireland
Promoting Community and Environmental Sustainability – Global Agenda for Social Work and Social Development: Third Report
A major report on the practice of social work and social development, drawing on contributions from social workers and service users from all over the world, is launched today at the World Conference on Social Work, Education and Social Development (#SWSD2018) in Dublin, Ireland by the three peak global bodies for social work and social development (IASSW, ICSW, IFSW – see notes below).
The 270 page report gives examples of how social work and social development are actively promoting sustainable communities and sustainable environments in five regional reports and a global overview.
Download the report as a free PDF or buy a printed copy here.
The overview chapter, drawing on the findings in the regional reports, examines the impact on and implications for social work and social development of: the United Nations Sustainable Development Goals (SDGs), the challenge to neo-liberal economic approaches, the rise of nationalism and populism, the global migration crisis, the rights of Indigenous peoples and challenges facing the workforce.
The report editor, David N Jones said: 'The global debate about promoting sustainable communities and environments in social work and social development since the launch of The Global Agenda in 2010 has both reflected the growing realisation of the environmental crisis and helped to shape a broader professional awareness. Examples in the regional reports are trailblazers, pointing the way for others to develop relevant practice and analysis.  The challenge remains of how to connect daily social work practice to this awareness of the importance of promoting sustainable communities and environments.'
The Presidents of the three global bodies (Annamaria Campanini, Eva Herrstrom and Silvana Martinez) commented: 'In the challenging times facing the world today, our expertise in social work and social development is now crucial to world peace and development. The Global Agenda process is therefore hugely significant, not only for our professions but also for the world community. It provides a platform from which to take the knowledge about what works held by professionals – and by people and their communities – into the wider community, to civil society, policy makers and politicians.'
NOTES FOR EDITORS
Copies of the report as a PDF can be downloaded at no charge from the websites of the global bodies.
The Global Agenda for Social Work and Social Development is the product of a collaborative initiative undertaken by three international organisations representing social work practice, social work education and social development. All three of these international bodies were founded in 1928 and have held formal consultative status for many decades with the United Nations Economic and Social Council and other UN and related agencies.
The report is one of a series commissioned by three global partners – IASSW, ICSW and IFSW.  The Global Agenda for Social Work and Social Development was launched in 2010.  Previous reports have considered 'promoting social and economic equalities' and 'promoting the dignity and worth of peoples'.  The fourth report will focus on the importance of human relationships'.
The International Association of Schools of Social Work (IASSW) is an international community of schools and educators in social work, promoting quality education, training and research in the theory and practice of social work, administration of social services and formulation of social policies. IASSW speaks on behalf of 2,000 schools of social work and 500,000 students. President Annamaria Campanini.
Visit http://www.iassw-aiets.org
The International Council on Social Welfare (ICSW) is a global, non-governmental organisation which represents tens of thousands of organisations around the world that are actively involved in programmes to promote social welfare, social development and social justice. President Eva Holmberg-Herrstrom.
Visit www.icsw.org
The International Federation of Social Workers (IFSW) is the global federation of national social work organisations in more than 116 countries representing over one million social workers. IFSW is striving for social justice, human rights and social development through the promotion of social work and best practice models and the facilitation of international cooperation. President Silvana Martínez.
Visit www.ifsw.org