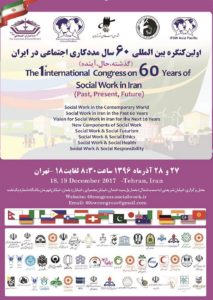 Social work in Iran was academically founded in 1958. Nowadays it can play an important role in health and social sphere in Iran. Thus, Iran Association of Social Workers is holding the conference of "60 years of social work in Iran" on 18th and 19th of December 2017, with cooperation with universities and relevant organizations.
The main goal of the conference is to analyze social work in Iran in the past 60 years and to make a new vision of that based on components of the new global definition of social work. We will discuss about social work activities in different areas including healthcare, social health, social welfare and social security, social problems, informal settlements, industries, Women, family, children and adolescents, elderly, disabilities, drug abuse, cyberspace, media, NGOs, social policy, social capital, social development, social solidarity, bill of right, urban management, Judiciary and police, crime prevention, crisis management and their future orientation based on new global approaches.
This conference could be a good opportunity for social workers interaction from different countries and cultures, Therefore we kindly invite you to participate in this conference. There would be an opportunity to present a keynote at the conference for your head of association or an association member about social work in your country.
Costs of hotels, food, transportation in Tehran and visiting social work centres would be covered for maximum 2 representatives from each of the IFSW member association. (Please note the cost of flights to and from Tehran are not included.)
If you are interested to participate in the conference, please kindly inform us as soon as possible in order to do the necessary coordination.
Seyed Hasan Mousavi Chalak
Head of Iran Association of Social Workers
And Conference Secretary
P.S: Please don't hesitate to ask for more information from
Related links:
Iran Association of Social Workers meeting with Tajikistan Association of Social Workers
Iran Association of Social Workers meeting with Kyrgyz Republic Association of Social Workers