(KNASW)
Kenya, Africa
P.O. Box 53685,
00200, Nairobi,
Kenya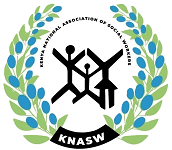 Info@kenasw.org
,
dchair@kenasw.org
http://www.kenasw.org
+254-712-860-722 / +254-721-643-129
@KenyaNationalAssociationOfSocialWorkers
@SocialWorkersKE
Name of the President: Mr. J. Kigai Kiarie Email
Number of members: 329
Year when the Association was established: 1966
Year when the Association joined IFSW:
Statutes Kenya Association of Social Workers
Code of Ethics Kenya Association of Social Workers
Kenya National Association of Social Workers (KNASW) is the professional body of social workers in Kenya. The body was founded in 1962, thereafter due to its growth, demand and clarity of membership the body was re-registered as a national association in November 1966.
The association is a member of the Professional Societies of East Africa and is affiliated to the International Federation of Social Workers (IFSW) and collaborates closely with Commonwealth Organization for Social Workers (COSW).
Initially, the membership of the association included the entire Kenya social welfare workforce involved in humanitarian work including those in collective, rehabilitative and curative services. In essence this brought together nurses, probation officers, community development workers, counselors, social activists, paralegals and academia. To date most of these groups have evolved as distinct fully fledged professionals' entities with their own professional bodies which, nevertheless, works very closely with social workers practitioners. Among them is probation officers, Medical technicians, nurses social work pedagogues, academia community development workers, and medical social worker.
KNASW is one, among other over 20 national associations in Africa who form IFSW African Region. Other regions are: Asia / Pacific, Europe, Latin America and North America (US& Canada), all the five regions from IFSW global whose headquarters is in Berne, Switzerland.
Is it social Work a university degree?
How many years do you have to study? 4 years bachelor's degree.
Do you have to register to practice social work?