(ANASIG)
Luxembourg, Europe
Mr. Jean-Michel Campanella
BP 2622
L-1026 Luxembourg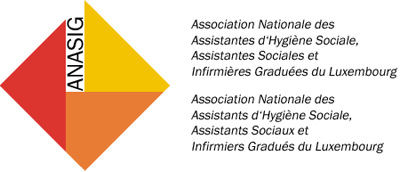 info@anasig.lu
http://www.anasig.lu
https://www.facebook.com/AnasigLuxembourg/
‎@AnasigLux
Name of the President:  Nathalie Koedinger.
Number of members: 176
Year when the Association was established:
Year when the Association joined IFSW:
Constitution ANASIG
L'ANASIG est une association professionnelle qui a pour objet :
de grouper les assistant(e)s sociales, les assistant(e)s d'hygiène sociale et les infirmièr(e)s gradué(e)s du Luxembourg, de créer entre eux des relations d'amitié, de collaboration et de solidarité professionnelle;
d'assurer la défense des intérêts professionnels, matériels et moraux des associés et de les soutenir dans les conflits et difficultés résultant de l'exercice de leur profession;
de cultiver des relations de sympathie avec ces professionnels de toute nationalité, d'affilier et de représenter l'Association aux conseils et organismes nationaux et internationaux.
Quelques-unes des activités de l'ANASIG :
publication d'une newsletter électronique
organisation d'après-midi du social pour aller à la rencontre d'institutions sociales
organisation d'After-work du social thématiques
organisation de la formation continue professionnelle
collaboration à l'élaboration des matières et à l'évaluation des connaissances pour la reconnaissance des diplômes de l'Assistant Social obtenus à l'étranger
représentation des membres dans les différents organes de représentation officiels, tels que le Conseil Supérieur de certaines professions de santé, commissions professionnelles, organismes internationaux, etc…
membre de EAPN Letzebuerg (EAPN= European Anti Poverty Network)
échange avec d'autres associations de professionnels du domaine de la santé et du social au niveau national et international
membre de l'IFSW ( International Federation of Social Work)
Les avantages des membres de l'ANASIG :
tarifs réduits pour la participation aux activités payantes organisées par celle-ci;
conseils et avis gratuits pour des questions professionnelles d'intérêt général (sur acceptation du dossier par le conseil d'administration);
accès et partage des informations importantes du secteur et des professions;
accès au plus grand réseau des assistant(e)s sociales, des assistant(e)s d'hygiène sociale et des infirmièr(e)s gradué(e)s du Luxembourg.
Is it social Work a University degree?
How many years do you have to study?
Do you have to register to practice social work?