(ANASSEN)
Senegal, Africa
SECRETAIRE GENERALE : Mme Marième Bathily SUANON
Sise à l'ENTSS, Avenue Cheikh Anta DIOP Point E – BP 5057 Dakar Fann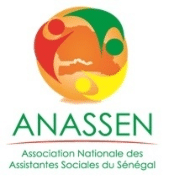 anassensenegal@gmail.com
https://anassen.puzl.com/
00 221 77 706 02 88
Name of the President: Mme Noumbé Maguèye Guèye DIALLO
Number of members:
Year when the Association was established: 2014
Year when the Association joined IFSW:
Code of Ethics Senegal Association of Social Workers
Constitution Senegal Association of Social Workers
ANASSEN is a national non-profit association created on November 22, 2014.
It brings together social assistants and helpers from various backgrounds and develops social activities intended for the population and more particularly for vulnerable individuals and groups. Its actions are carried out without any form of discrimination or prejudice and are based on respect for the dignity of everyone.
Our ambition is to become a strong associative movement which will provide its share of answers to the big questions of social current affairs. It aspires to support representatives of the state, local authorities and civil society actors, to find the best means to build a social system adapted to the aspirations of populations and especially vulnerable groups.
Is it social Work a University degree?
How many years do you have to study?
Do you have to register to practice social work?