(YGUSSWP)
Yemen, Asia and Pacific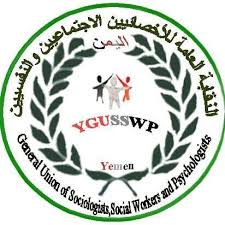 info@ygusswp.org || yuoswp@gmail.com
http://ygusswp.org/ar/
+967 772 163 473
https://www.facebook.com/yguswp/
@ygusswp
Name of the President: Refat Hassn Hamoud Braz
Number of members:
Year when the Association was established: 2011
Year when the Association joined IFSW:
Statutes Yemen Association of Social Workers
Code of Yemen Association of Social Workers
The union was formed in order to support and call for the modernization of curriculums in the fields of sociology, social sciences, psychology in Yemeni colleges and universities. The Union will demand the modernization of educational techniques in public schools and universities. Besides, the broad aim of the union is to stress the need for improving the current status quo of the Yemeni society in all aspects of life
The General Union for Sociologists, Social Workers and Psychologists in Yemen has been established on 20, July, 2011 according to a ministerial Decree No. (123) issued by the Ministry of Labor and Social Affairs –Sana'a
The aim of the union is three-fold:
• defending the rights of its members
• promoting social vocations
• conducting social development programs for the society
Is it social Work a University degree?
How many years do you have to study?
Do you have to register to practice social work?