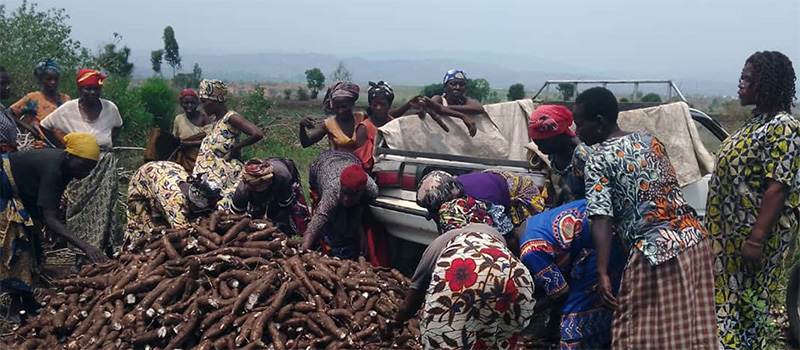 In the face of ongoing conflict in the Democratic Republic of Congo (DRC), the National Association of Social Workers (NASW-DRC) has made significant strides in empowering vulnerable communities in the Luvungi village. Through its recently concluded Agriculture project, NASW-DRC has successfully supported 50 farming households, predominantly led by women, in achieving food sustainability, improved nutrition, and economic empowerment.
Lucio Kikuni, the project manager at NASW-DRC, expressed his gratitude to all supporters, stating, "Despite the challenging climate conditions and economic hardships, our project has brought tangible change to the lives of the beneficiaries. Through the VSLA TUVYUKE initiative, we've witnessed how such interventions can transform communities, with many children receiving educational support and households achieving financial autonomy."
Dr. Noel Muridzo, IFSW Africa President, lauded the project's achievements. "The work done by NASW-DRC is a testament to the power of social work. They have not only improved individual lives but have fostered a spirit of community and interdependence. It's inspiring to see such sustainable change that resonates with the core tenets of social work."
Oluwatoni Adeleke, IFSW Africa Vice President, added, "The resilience and determination demonstrated by NASW-DRC amidst the challenging landscape of DRC is commendable. Their efforts are a beacon of hope, showcasing how we can drive sustainable change by harnessing the strength of unity and the spirit of Ubuntu."
With the project's success, the beneficiaries have been trained and empowered on nutritional balance, income-generating activities, and leadership. The community-wide impact is evident as other members of the Luvungi village express interest in joining the program. NASW-DRC aims to expand its reach and continue its mission of empowerment. Lucio commented "As part of our outreach efforts, we aim to celebrate Christmas with displaced children in the camp, sharing love and hope with them. We are seeking contributions to buy items for them. Please contact us if you wish to contribute. Let us together be the change we wish to see in the future and bring love and smiles to these children". You may support the Christmas Celebration directly by donating funds through GoFundMe.
As NASW-DRC looks ahead, they are in talks with Farmer Pride International to further strengthen their Village Banking Program for Entrepreneurship and Agro-Enterprise in the coming years. The organization also hopes to introduce new initiatives, such as the maize sheller machine project, to further promote sustainability and economic growth in the region.