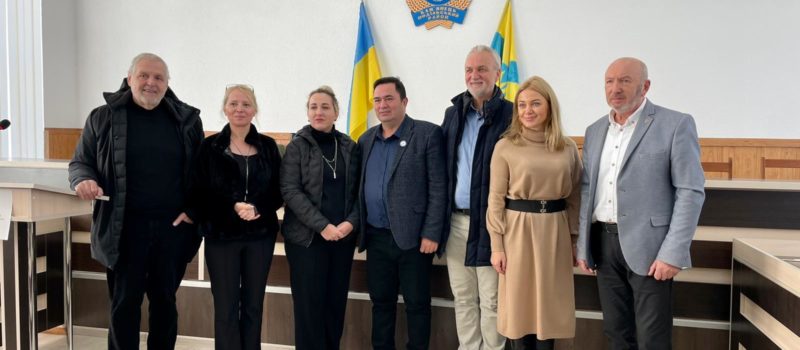 Today the National Association of Social Workers Ukraine (NASWU) was officially launched in the country's central district of Kamenets Podisk. Representatives from the office of the Prime Minister joined the District Mayor, Mr Mykhailo Simashkevych, along with local social workers, social work students, professionals from other parts of the country and members of the International Federation of Social Workers.
The association's launch is important to the country's resilience under war conditions, and also for the rebuilding process of the social and economic systems which have been affected by the war. Ms Olga Lugach from the office of the Prime Minister commended social work and the launch of the association. The Prime Minister, she reported, has been examining different models of social support and after learning of the outcomes from the Kamenets Podisk district he wants to see this approach grow across the country.
The President of the Association of Social Workers Ukrainian, Yana Melnychuk commented that social work had made a significant impact to the lives of people since the invasion. With a photo presentation, she showed the many communities that have been activated through social work facilitation, creating mutual support systems and social enterprises that directly contribute to well-being.
On behalf of the international profession, IFSW Secretary-General Rory Truell congratulated Ukraine and its social work professionals. He noted that strong social work is essential for the functioning of every country that wants to thrive socially and economically. He further commented that social work has made major contributions across many war and crisis zones demonstrating the profession's ability to support people in the most difficult contexts. Herbert Paulischin from IFSW Europe said that the NASWU is now invited to join the IFSW family of associations and the global profession looks forward to working with them.
The launch of the NASWU was initiated by the Kamenets Podisk / IFSW partnership and has grown to become a national representation of social workers. IFSW European Regional President, Ana Radulescu said, "The launch of the national association is a natural progression from our partnership. Social workers in Ukraine have been invaluable in supporting displaced people and all people who are going through significant life-threatening challenges. The social work carried out here in the Kamenets Podisk district and in all the other districts is critical to maintaining and building resilience. The new professional association will be able to provide key support to those social workers who are also under great pressure."
To visit the NASU website click here: www.насп.net
To learn more about the Kamenets Podisk and IFSW partnership click here https://www.ifsw.org/social-work-in-ukraine/