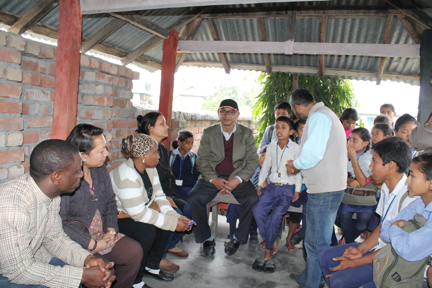 The International Federation of Social Workers is delighted that Nepal has joined this week as a full member. The application was made by The Social Work Association of Nepal (SWAN) and voted on worldwide by postal ballot during October.
SWAN is the national professional association representing social work in Nepal. It is a new organisation that signifies a major step forward for social work at the national level. While social work training has been available since 1996 there has been little support or recognition for Nepalese social workers. SWANs foundation changes that dynamic.
Dr. Dilli Ram Adhikari President of SWAN says, "We are promoting social work education and practice by uniting social workers in Nepal for social, economic, psychological and spiritual welling of deprived and marginalized people". He says, SWAN aims to:
Provide support to academic institutions for developing standards curriculum in social work and its promotion.
Policy advocacy on social development issues, social security, social policy, social inclusion and human rights.
Conduct research on existing social, economic, cultural and indigenous social work practice in Nepal and publish the findings.
Establish network at national and international level with social work communities and academic institutions.
Work in close collaboration with different social organizations for improvement of social-economic condition of the marginalized communities.
Exchange of technology and knowledge with international//regional/national institutions.
IFSW Secretary-General, Dr Rory Truell said, "We are very excited that Nepal has joined IFSW. The Federation is a place of shared learning and global action. Like other countries disadvantaged in world trade systems, Nepal has many challenges and their social workers have considerable experience in supporting communities in poverty, stopping human trafficking and empowering marginalized people. Nepal can now stand alongside our other country-level members in our global work to reinforce social work solutions to such problems".
Dr. Dilli Ram Adhikari described that, "Social work in Nepal is focused on working with deprived communities, people with disabilities and people who are isolated from family support. We also provide education on sanitation and hygiene, HIV/AIDS, and support people and their families who experience mental health problems. There are big challenges in Nepal", he said, "especially with trafficked girls and women who are sent away to become sex or domestic slaves and social workers are actively working to stop trafficking and facilitating communities to ensure that people are protected".
Other new IFSW country-level members in 2014 include: Egypt, Morocco, Mexico and Granada. Dr Truell said, "Professional social work is growing strongly in Africa, Asia-Pacific and Latin America. This is due to the realization of many governments that social protection systems are not only essential for people, and maintaining stable communities; they are also essential for a strong economy. For every $1 spent on social protection systems there is a $3 return to the economy. It is great to be a part of a profession that provides significant benefit to individuals, families, communities and the whole of society" he said.
SWAN is exploring hosting a social work and social development conference in 2016 in Nepal and is looking for other IFSW members who maybe interested in either co-hosting or supporting such an event. To contact SWAN email: