During the IFSW 2016 General Assembly held in Seoul, Korea elections were held for seven of the twelve global executive positions. Elections take place every two years during the General Assemblies.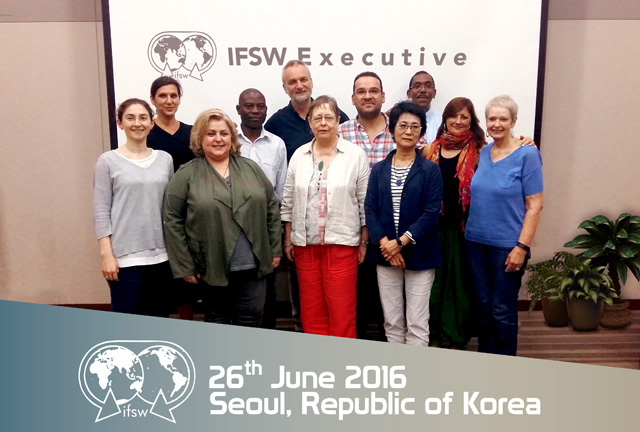 The 2016 IFSW Executive. From the left, front row: Salome Namicheishvili, Ana Lima Fernandez,  Ruth Stark and Mariko Kimura. Back row: Dunja Gharwal, Noel Muridzo, Rory Truell, Larry Alicea, Rodríguez, Darrell Wheeler, Silvana Martinez, Rose Henderson.
Dunja Gharwal from Austria was elected unopposed as Treasurer.
Noel Muridzo from Zimbabwe was elected as the African Regional President, and was later appointed by the executive committee as the Global Vice President of IFSW.
Rose Henderson from New Zealand was reaffirmed in her role as Regional Deputy President for the Asia-Pacific Region. (The position was formally called Member at Large but changed during the General Assembly as a part of the Constitution Review)
Ana Lima Fernandez from Spain was elected European Regional President.
Larry Alicea Rodríguez from Puerto Rico was elected Regional Deputy President for the Latin American and Caribbean Region.
Darrell Wheeler from USA was elected North American Regional President.
Jan Christianson-Wood from Canada was elected Regional Deputy President for the North American Region.
As a result of Noel Muridzo's successful election to the post of African Regional President he left his former role of African Member at Large halfway though the term, and therefore a postal ballot election will be held for the African Regional the African Regional Deputy President later this year.
Outgoing executive members were Eva Ponce de Leon from the role of Treasurer, Roldolfo Martinez form the role of Member at Large, Latin American and Caribbean Region, Daniel Asiedu from the role as African Regional President, Morel Caissie, North American Regional President and Cristina Martins from the role as European Regional President.
At the executive meeting following the elections, Global President Ruth Stark warmly welcomed the new members and said that she was excited about the future work of the executive building on the successes of the past executive. She thanked the outgoing members for their hard work and contributions to the profession.
The IFSW Secretary-General Rory Truell and Global President Ruth Stark held an induction programme for the new executive members following the elections. The executive meets through online platforms and will next meet face-to-face in Zambia coinciding with the 2017 African Regional Conference.