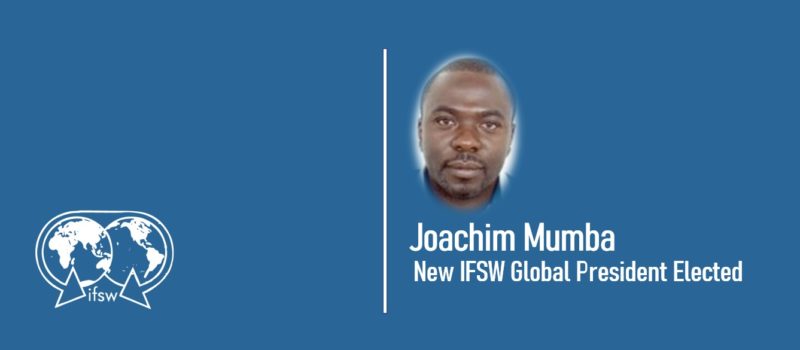 IFSW is delighted to announce that the new global President is Joachim Mumba from Zambia. His 4-year term as president commenced on the 16th of May 2022.
He follows on from Silvana Martinez who stepped down at the end of her 4-year term at the end of the IFSW General Meeting which took place from 14th to 16th of May 2022.
The General Meeting has also confirmed the following people who have been elected unopposed:
Regional Vice President Africa – Oluwatoni Modupe Adeleke (Nigeria),
Vice President Europe – John Brennan (Ireland) re-elected for second term,
Regional President Latin America and Caribbean – Kenia Batista (Panama)
Regional President North America – Joan Davis-Whelan (Canada)
Vice President North America – Mildred Joyner (USA)
There was an election on Sunday 15th May 2022 to elect the Asia-Pacific Regional President. Two candidates were nominated, and Machiko Ohara (Japan) was elected.
The IFSW General Meeting welcomed them in a ceremony on Sunday 15th May and thanks the outgoing executive members: Silvana Martinez (Global President), Larry Alicea Rodríguez (Regional President for Latin America and Caribbean Region), Rose Henderson (Global Vice President and Regional President Asia-Pacific).
The IFSW Secretary-General, Rory Truell said on behalf of the Federation and its members:
"Thank you so much to the executive members stepping down at the end of their elected terms. Under your governance the Federation has reached extraordinary levels of visibility and impact. The profession and communities we work within are indebted to you all. We also warmly welcome the new executive members. These are challenging roles, and we thank you for volunteering your time and expertise in ensuring that the Federation continues to move forward in furthering our agreed aims. It is particularly significant that we have elected our first Global President from the African region. It was also the same, 4 years ago, when we elected our first Global President from the Latin American and Caribbean region. The significance of this election is that it completes the cycle of every region in the world taking this critical leadership role. This has enabled the Federation to steer a more holistic vision of our global commitment to each other."
The executive members that remain in post are Victor Ivan Garcia-Toro (Pueto Rico) Treasurer, Noel Muridzo (African Regional President), Sriganesh M V (India) as Asia-Pacific Regional Vice-President, Ana Radulescu (Romania) European Regional President and Tania Maria Ramos (Brazil) Latin America and Caribbean Regional Vice President.
The new executive met on Monday 16th and appointed Ana Radulescu as IFSW Global Vice President and Jane Shears as the IFSW Ethics Commissioner.
The 2024 IFSW General Meeting will take place in Panama.