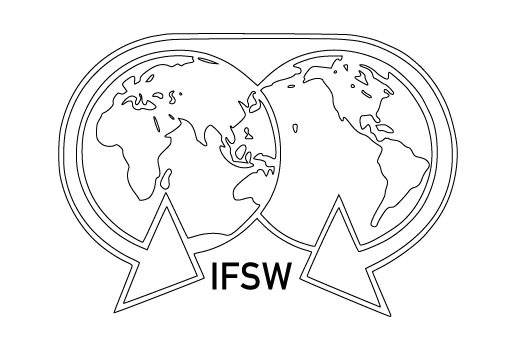 The policy paper "The Role of Social Workers in Advancing a New Eco-Social World" has just been adopted as part of the 2022 IFSW General Meeting. The IFSW United Nations Commission who has developed the policy paper thanks the member organisations for their support. Awareness raising regarding ecological and social change is widespread nowadays, but embracing these two and agreeing for one guiding document on a global level is a milestone. The policy recognises that many people have already thought and acted in this holistic way, and that for too long, these voices have been suppressed.
Priska Fleischlin, IFSW UN Commissioner, said: "By adopting this policy paper, IFSW is saying: we, as a global organisation, stand for change and give ourselves tasks. We co-create transformation and assist the people we work with to become involved in this transformational change. We adress the areas where change is needed, support visionary leadership and engage for high recognition of social work as a valuable partner of governments. We understand people as part of nature and nature as part of people. Where does change begin? Within every single person. We hope this policy paper assists the members of IFSW in their further elaboration and adaption for advancing a new eco-social world."
Joachim Mumba, IFSW Global President, added: "It is so elating that the policy paper on the role of Social Workers in Advancing a New Eco-Social World was adopted by the 2022 IFSW General Meeting. The world is at crossroads at the moment and needs a total rebirth in terms of bringing about a value system that will be very critical in re-building our societies post-COVID-19. This global reorientation will be taking place at a time when the world is grappling with climate change and human-to-human conflicts. The policy paper could not have come at a better time as this when the role of social workers is increasingly becoming crucial. Social workers have the skills and competencies to work collaboratively with communities and all peoples to sustainably co-build a new eco-social world. As a global organisation, IFSW believes that sustainable transformation can only occur when people affected are involved in re-thinking and reordering their lives. The policy will guide social workers as they seek to extend their influence in affecting people's lives and the world they live in."
This policy Paper was written by four members of the IFSW United Nations Commission and edited as part of an internal consultation process. Special thanks go to the drafting team: Anne E. Deepak, Evelyn P. Tomaszewski, Sebastian Cordoba and Shenea Osborn. Further thanks goes to the other IFSW Commissioners as well as the IFSW Secretary-General Rory Truell for their feedback.
Click here to read the full policy paper
Click here to access the information hub and to find similar policy papers