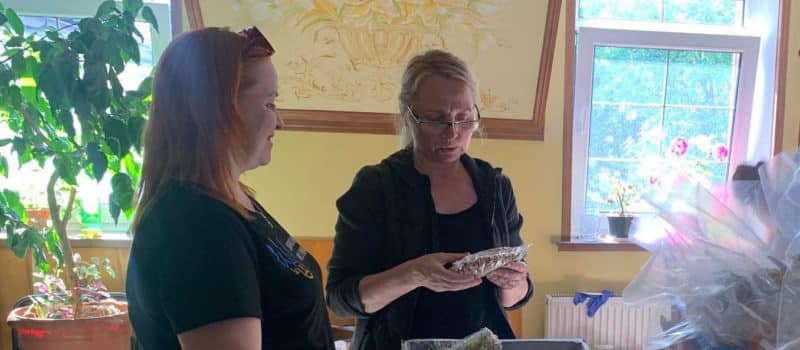 Note from the IFSW news editor: The following article and call for support has been written by Ana Radulescu, the IFSW European President and global Vice President. Ana has been the key facilitator of the Social Work Response in Ukraine since the Russian invasion. From February to July, this involved organising support systems for refugees at Ukraine's borders, assistance for their journeys across Europe and beyond, and the organisation of food, medicines, and essential supplies in Ukraine, as well as to the many points where refugees have sought asylum. Since July, Ana has led a partnership between IFSW and the Ukraine province of Kamenets Podilsk. This has led to ground-breaking advances in social development under war conditions. In the following article, Ana brings us, as readers, into some of the daily challenges and gives us glimpses of how people are reacting under extraordinary circumstances and how we can support them:
Have you ever wondered what happens to people living near war zones? What do they eat? How about civilians who enlisted to protect communities? What happens to food during the heat of summer? Looking ahead, what happens when winter comes and transportation is difficult?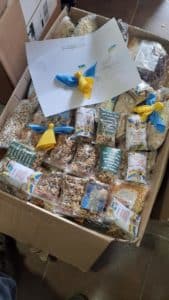 Food is undoubtedly a challenge, and we, social workers, are concerned seeing that winter is at the corner. We have experienced an earlier winter at the borders, and we know the experience people went through because of the shortage of food.
The answers to all these questions would be revealed when I first stepped into Ukraine in June 2022. Since then, IFSW and I have been part of an extraordinary story. The following is a story I would like to share with you, and I would like you to consider contributing to our open fund to support those women behind the front lines.
International Federation of Social Workers/ Europe
IFSW Europe
Name of the account: DBSH eV
IBAN: DE63 660 908 000 014 451 910
SWIFT-BIC: GENODE61BBB
When you transfer money, please add UKRAINE as a code word.
The story of the women of Kamenets, who created the "Podolia" Kitchen begins like any story behind the front lines. Wives of soldiers and civilians, who went to the front, met to discuss how to manage the problems they and their children encounter and how to help their loved ones on the frontline. Their suffering did not stop them from looking for creative solutions related to the food supply. I got to know them after receiving an invitation from  Mihai Mihaiescu Aniuk (IFSW guide and support in Ukraine and Expert for national minorities at the Prefect's Institution – Suceava county). He said:
"I have seen what you social workers did Ukraine border and I am sure you can see something that I cannot see to help them. They need your support. Please join me in Ukraine. I make sure that you are safe".
So, I could not say no. After that, I went with Rory Truell and Herbert Paulischin to prepare the IFSW Project on Community Social Work, and we were introduced to many people in the community including the women who created the "Podolia" Kitchen.
They initially started making pouches of dehydrated food that could be easily prepared with hot water. After they started to send the first packages, they received more and more requests from the front line.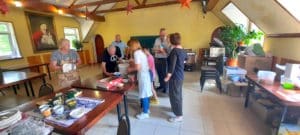 I asked my husband: Do you eat that much? There was food there that could feed 5 people, not one. After a while, my husband told me:  I can't eat alone. I am here with many families and children that we protect. We eat together. I need a lot of food if you can send me.
(A woman from the "Podolia" Kitchen)
Through the goodwill of the Ukraine women, these products reach not only the soldiers but also the populations in the conflict territories, the people trapped, traumatized, the elderly, and children.
We initially started cutting all the products with knives. I chopped hundreds of kilos. I hurt my hands, but could not give up. We soon realise that we could not produce what we had at the level of the required quantities. We needed support. So, we asked Mr. President of the district and he asked Romanian friends.

We have prepared different recipes for dehydrated food. It is the food we are used to. On each envelope, we wrote how to prepare and for how many people.

Because it is dehydrated and vacuumed, the food lasts for a long time. We manage to send them there, and they can keep and stored under any conditions. Now we also send to people in the communities near the war zones. There are children there who need food.
(A Woman from the "Podolia" Kitchen)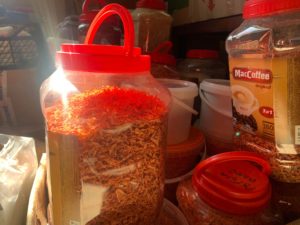 It is also worth mentioning that in particular, the raw material products are donated by various people from the agricultural area in the neighboring villages or purchased through the savings of the wives of military officers and non-commissioned officers.
Vacuumed-packed dehydrated products are very easy to transport as they do not take up much space and do not have to be stored in fragile containers and are also very tasty because they retain all the qualities of preserved vegetables and fruits, vitamins, etc. In addition to those pieces, they contain fragments of vegetables and a paper explaining how to prepare them, and they also contain messages of encouragement to the people to whom messages or symbols are distributed. to the children of refugee students in high school classes.
At the moment, the activity of women from the "Podolia" Kitchen takes place 24 hours a day during the usual working days in two or even three shifts, one shift means between 18 and 20 people. Military wives were joined by refugee women from eastern Ukraine.
The women bring their children with them so they can keep an eye on them. The children also contribute to these efforts, with the younger ones preparing little paper angels that they colored and attached messages of encouragement.
A handful of donors from Romania, including ASproAS, a member of IFSW, donated and bought devices to chop, dehydrate, and put them in vacuum. As the need to produce more food grew every day, so did the need for machines to help them more.
For us social workers, this place is important because it provides food for the most vulnerable people in the proximity of war zones, but also because it is an extremely valuable support group in the community for women and children.
Second-hand appliances have become scarce, and now we need to buy dehydrators and vacuum machines. If you want to be part of this support to produce and transport food, then we invite you to join us through a donation in the open account of IFSW Europe.
About Kamenets Podilsk
Kamenets Podilsk district consists of a town and six neighboring municipalities. As a result of the war, 2 more districts were allocated to Kamenets Podilsk district. The town of Kamenets Podilsk is the seat of this district. More than 40,000 refugees have arrived in a population of about 180,000 today. More people are expected as a result of winter. Only two institutions provide assistance to these refugees. The District Council and the Roman Catholic Episcopate. Humanitarian products come mainly from localities in neighboring countries such as Poland, Romania or Lithuania. But the distance is considerable. The nearest neighbor, The Republic of Moldova, does not have the resources to help refugees in this area. Also, due to the bloody conflict and the war expenses, the central leadership comes with minimal help.
In July 2022, IFSW opened a Community Social Work Center and Social Work Hub. More information is available here:
https://www.ifsw.org/social-work-in-ukraine/
We invite you to join the social workers' effort in Ukraine!
For donations, you can use the following data for the International Federation of Social Workers/ Europe:
IFSW Europe
Name of the account: DBSH eV
IBAN: DE63 660 908 000 014 451 910
SWIFT-BIC: GENODE61BBB
When you transfer money, please add UKRAINE as a code word.
WE THANK YOU VERY MUCH!