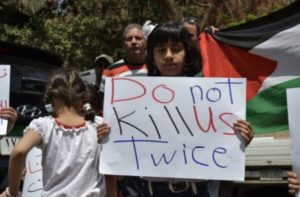 Statement by Palestinian union for social workers and psychologists
Palestinian union for social workers and psychologists is following closely the hard and harmful decision that UNRWA has implemented in Gaza strip and West Bank which reduces services and project assistance. In addition, UNRWA has decided to end more than 1000 jobs (956 in Gaza and 154 West Bank). It is one of the most dangerous steps that UNRWA has taken in its history as it affects the future and hundreds of families.
We as Palestinian Union for Social Work and Psychology identify that this decision will affect all Palestinian communities who are already suffering as refugees and the effects of the occupation. The cuts to the UNRWA budget will displace more people and communities and further undermine human rights and peoples social rights to self-determination.
We are requesting that the United Nations assume its legal and humanitarian responsibility towards the Palestinian refugees. The UN should continue to provide support for UNRWA as it is the only witness to the Palestinian situation until a comprehensive and just solution for the fate of Palestine and the refugees is adopted.
We emphasize the following
The work of social and psychological specialists in the Gaza Strip and Gaza is a safety valve for mental health and psychological support in the camps and various communities stopping of these services and the expulsion of employees constitute a disaster that threatens the social and psychological security of the Palestinian society.
Most of social and psychological workers in Bedouin communities, mobile clinics whose contracts have been terminated it is a threat to them and their families. They spent their youth blossoming at the service of the organization and Palestinian refugees.
We call the UNRWA to hold a comprehensive and full dialogue with the Arab Workers' Union in the UNRWA in the West Bank and Gaza with the participation of the Palestinian Authority to discuss and look for solutions and alternatives to get out of the crisis and bring back the staff to their work.
Our people in the west bank and the Gaza Strip are in huge need UNRWA and its services at this time. They live under siege and it is the only institution supporting the refugees. We are wishful to keep them strong.
The financial crisis is not only for the employees but also for the refugee community and the governments' countries. Therefore, we call upon all parties to intervene urgently in their respective countries to help UNRWA mobilize the necessary donations to overcome this crisis.
We call on all international, regional and local institutions and human rights in this world to stand up and defend the rights of the Palestinian refugees and continue to support the UNRWA to achieve its goals for which it was founded.
Palestinian union for social workers and psychologists
4/08/2018