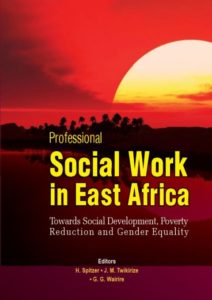 H. Spitzer, J.M. Twikirize, G.G. Wairire
Published by: Kampala: Fountain Publishers, 2014, 398 pages
ISBN: 978-9970253678
Review author: Linda Kreitzer, University of Calgary, Canada
Book review published: December 14, 2016
---
The profession of social work in Africa has had a unique and diverse history, which continues today. From clan and kinship networks of pre-colonial Africa, to the introduction of colonial social welfare institutions and to the post-independence struggles to offer social support to the continent, social work is a product of these influences and much more. In fact, today, social work is coming into its own on the African continent. From the early educational institutions in Egypt, South Africa and Ghana, social work has grown from a para-professional service to a professional service that serves some of the most vulnerable people in Africa through government, non-government, and international government agencies and contributes to many areas of African life.
Few books have been written about the historical context of social work in Africa and fewer books have grasped the issues and challenges of social issues in Africa today. This book, Professional Social Work in East Africa, is a stellar example of research that brings together four East African countries to highlight and identify the profession in today's world. It brings together African social work scholars and other scholars who have researched in Africa to speak to the issues that confront African social work in today's world. These editors have produced one of the most important social work books for Africa and in particular East Africa. Conducted in 2011, across four countries, there were 2,000 respondents from social work practitioners, employers, educators, students, policy-level informants and clients who took part in this study; somewhat of a challenge with the lack of data available concerning social work agencies in these countries. The book highlights the work of important African social work scholars whose writings continue to add to the growing body of knowledge concerning social work in Africa. I have had the privilege of working with these scholars and find their work and writings crucial to forwarding social work in Africa.
The book begins with an introduction to the research project called PROSOWO (Promotion of Professional Social Work in East Africa) that is the basis for this book. A collaboration of universities from Kenya, Rwanda, Tanzania, Uganda and Austria under the Austrian Partnership Programme in Higher Education and Research for Development (APPEAR) came together to promote and strengthen social work education and practice in view of finding a way to reduce poverty. The goal of the research was to "provide a snapshot of social work in East Africa as a region but also to underscore the peculiarities within given countries since this is not an homogenous community" (pg. 189). Although a medley of different themes emerges throughout the book, the issue of social work education and practice is interwoven throughout while the main issue is poverty alleviation in East Africa.
Part I gives a general history of the many influences that have shaped social work in Africa including indigenous culture, colonialism, poverty, neoliberal policies and social development theory. Specifically, four chapters highlight issues surrounding poverty in Africa in relation to the Millennium Development Goal's (MDG's). Part II gives country specific history concerning the growth of social work and the present concerns around social work education and its relevance to present day Africa. References reflect other important work completed in this area in the past and show that many of the same issues concerning social work education still exist today. Throughout these chapters a strong acknowledgement that social development theory is appropriate to the African social work context is voiced. How to do this is something these countries are working on. Part III looks at the findings of the research. Six key concepts for poverty reduction came out of the findings: 1) the need for the social work profession to prioritize poverty reduction in their education institutions and practice; 2) the importance of strengthening and profiling social work's important contribution to the Millennium Development Goals; 3) social development model of social work is key to poverty reduction; 4) gender equality is essential for reducing poverty; 5) social work education and practice needs to be culturally relevant; and 6) strengthening the profession of social work will impact greatly poverty reduction in Africa. The other chapters include more specific findings from the study in relation to each of the countries involved. Part IV speaks to different issues confronting the continent today that, if addressed, can empower many countries and people to grow and develop. These include gender issues, safe water, child protection and conflict. Part V gives a summary of the research findings as well as comments concerning the future role of social workers in reducing poverty and ideas on how social work education and practice can be altered to meet this goal.
The book offers an important contribution to social work education and practice in Africa. It represents empirical evidence that can be used and implemented at all levels of social work education, research, policy and practice. There is a lot of information in the book, which can be hard to grasp at times, but it is also the strength of the book that so many issues are covered when few books like this are available in Africa and written by Africans. The book has also shown to me that there is still a gap concerning the history of social work in Africa and more work needs to be completed in this area. Finally, the book highlights the need for integrative social work interventions that are culturally relevant, multi-disciplinary, participatory, and uses the resources of all professions to work towards what is now the Sustainable Development Goals in the future.
In summary, the contribution of social work to the realisation of MDG's, in general, and poverty reduction, in particular, has not been fully assessed. This research fills the gap in this knowledge.
This book should be used in social work departments in these four countries as well as in the rest of Africa. As stated by the authors: "The social work profession has a stake in the creation of a world free of poverty and should, therefore, contribute to the achievement of the global and national development goals. The contribution of contemporary social work towards poverty reduction and social development reflects the utmost purpose of the profession in promoting human and community well-being" (p. 267).
---
Linda Kreitzer teaches at the University of Calgary, Central and Northern Regional office in Edmonton Canada. She has been involved with social work in Africa for twenty years. Her book "Social work in Africa: Exploring culturally relevant social work education and practice in Ghana" was published in 2012.