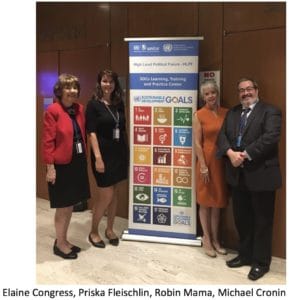 The school of social work at Monmouth University which has operated as a base for the profession's advocacy at the United Nations headquarters in New York is preparing to  offer a unique Doctorate programme in Social Work and Human Rights Leadership. The aim of the programme is to support and strengthen the social work role in advancing human rights.
It is envisaged that students studying in this programme will be able to use their own practice setting (anywhere in the world) as the base for their study. The proposed 3 year programme will require students to meet in weekend residencies at the beginning of each semester either face-to-face or via online processes. Students will work together in supported groups creating a shared working environment and will participate in regular online lectures with global social work leaders
Dean of the School of Social Work and IFSW United Nation´s Representative, Professor Robin Mama said, `This programme is being developed to provide support to the many social workers leading rights in their communities. Their work deserves recognition and the social workers deserve all the support necessary to provide evidence of change as a result of professional interventions. We are envisaging global communities of social workers working in a supported environment, learning from each other's experiences as well as from a range of global social work leaders. Our school's links with the United Nations will also create an ideal platform for buidling links and showcasing social work advancing human rights.
In order for the university to approve the programme, we require an indication of interest from people who are seeking to undertake doctoral studies.  If you are interested in this proposed doctorate, please answer a few questions here:  http://bit.ly/DSWatMU`