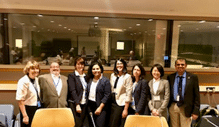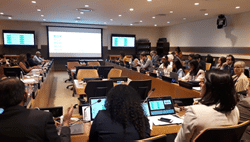 The High Level Political Forum (HLPF) is the highest annual meeting of the United Nations don the Sustainable Development Goals (SDGs) 1 . It contains a review of 6 SDGs and one overall theme, The 2019 theme is: Empowering people and ensuring inclusiveness and equality. During the review of each SDGs, the UN is organizing SDGS LEARNING, TRAINING AND PRACTICE programs.
IFSW has developed, with Harvard University and the International Science Council, a half-day session on the theme  "Practices and approaches on quality education towards environment and climate". This learning session asked what the SDGs are looking for: Partnership! It has been a valuable exercise for all three organizations, with their very different backgrounds, to create a learning session for an audience of politicians, NGO and civil society representatives, students and educators.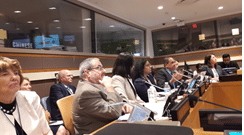 The first partner Harvard University Zofnass Program for Sustainable Infrastructure 2 has the mission to develop and promote methods, processes, and tools for sustainable infrastructure. Their work is to expand the body of knowledge for sustainable infrastructure, promote best practices and facilitate the adoption of solutions for infrastructure projects and systems.
The second partner, the Transdisciplinary Research Oriented Pedagogy for Improving Climate Studies and Understanding Program (TROP ICSU) 3 , as a member of the International Council of Science, has developed a model for teaching and learning modules to integrate climate change-related topics across the curriculum. They are designed and packaged so that teachers across the world can use them to impart trans-disciplinary training that is essential for addressing the problems of climate change. 
A social work case study of the bock 'Global Agenda for Social Work and Social Development' 4 has given a practical example for this session. Each of the three teams was challenged to analyze it with their specific professional understanding by using the Sustainable Development Goals and see what they have covered or missed.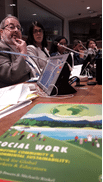 By analyzing all themes that it contained, it has become clear that this social work program covers many of the SDGs; The cultivation of Bamboo has made a positive contribution to SDG 13 (Climate action), health (SDG 3) and also education (SDG4). People learn a new behavior for addressing climate action by reducing air pollution (SDG 13). Jobs were created (SDG 8) and poverty and hunger reduced (SDG1/2). People were involved in developing solutions. There was respect for all voices and partnerships between and among people and organizations was established (SDG 17) and it offers alternative ways to promote well-being of people (SDG3). Understanding environmental needs, sustainable community development, agriculture and animals in parks (SDG 15). Preserve the environment for people, plants, and animals to live in harmony (SDG 17).
In summary, it has become clear that when various professions work together, the knowledge to create sustainable solutions emerges. For this HLPF learning session science, education and social work have looked at the case example and learned from each other. Having a Sustainability Framework like the Sustainable Development Goals (SDGs) helped organize the knowledge and the transdisciplinary team to bring their knowledge together. Case studies served as an integration strategy between institutions not typically working together. Should this project be continued, the three organizations could merge the analyses and ideas together, creating a comprehensive approach.
The discussion with the audience showed that many actors are engaged and wish to strengthen the collaboration in order to empower each other and reduce feelings of uncertainty. It was also fascinating to see the wish to exchange with people and by combining the presenters and the audience's knowledge, questions and answers triggered some people. Changing the world begins
A report on the whole HLPF will soon be available on www.ifsw.org
links for more information: The event has been recorded and can be found under: http://webtv.un.org/search/part-6-sdgs-learning-taining-practice-hlpf-2019-side-event/6058115838001/?term=&lan=English&cat=Meetings%2FEvents&sort=date&page=2
Author: Priska Fleischlin, IFSW UN Commissioner
[2]Harvard University Zofnass Program for Sustainable Infrastructure. Found on 16 July 2019 under: https://research.gsd.harvard.edu/zofnass/
[3]Transdisciplinary Research Oriented Pedagogy for Improving Climate Studies and Understanding Program. Found on 16 July 2019 under: www.tropicsu.org
[4] IFSW (2018). Global Agenda for Social Work and Social Development. Found on 16 July 2019 under: https://www.ifsw.org/shop/