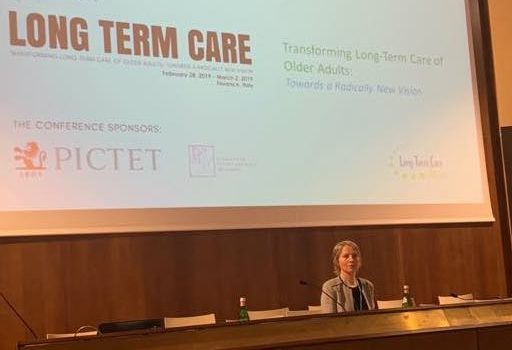 Seeing into the future of long-term care: what will tomorrow's older adults need and demand?
These days, Florence hosted the Long-Term Care Alliance Aging in Place Conference, the first interdisciplinary and multi-sector conference.
The conference aimed to create a vision for how society will substantially enhance the quality of life of older adults and provide effective support and care for those with cognitive and physical frailty.
Ilan Gonen, the Founder of the Long-Term Care Alliance said:
Future solutions must address the delivery of cost-effective health care services, the challenges and the opportunities of in-home and ambulatory safety monitoring and how the best to meet the individualized social, emotional, cognitive, spiritual and functional needs of older adults
William E. Reichman, Conference Steering Committee said that:
A major societal transformation in underway across the world as people live longer. Health and community support systems are struggling to balance the needs of the current generation of older adults, the demanding of the population aging, and the overarching impact of rising costs that challenge even the most cost-efficient healthcare systems.
The President of IFSW Europe, Ana Radulescu, has been invited speak at the conference. Ana highlighted the contribution of social workers in future development of social services and research.  Here is the summary of the presentation:
The populations of all European countries are expected to reach ageing values never before observed in human history. According to the Network of Europe's Leading Demographic Research Centres, we shift from Baby Boom to Grandparent Boom.

Ageing indicators increased between 1960 and 2010 and are projected to continue growing. It is expected to reach unprecedented values in the next fifty years. It is predicted that by 2060 most European countries will have a proportion of elderly aged 80 and over of about 10 percent. The three countries with the oldest populations in 2010, were Italy, Germany, and Sweden.  Yet, while Italy, recorded the highest European median age first at the beginning of the 21st century, Sweden took a leading position in the 1960s and the 1970s. Germany, on the other hand, reached the highest median age in Europe in the 1980s and it is projected to remain on top in the following three decades. After 2040, Latvia and Romania are expected to have the highest median age. Germany, Poland, Romania and Slovakia are expected to be among those countries which may need to deal with a rapid ageing process the soonest (Nina Conkova, Network of Europe's Leading Demographic Research Centres).

This high speed of ageing gives us less time for designing and implementing policies and services that answer the need of the population.  

Seeing into the future of long-term care is a must, as we have to deal with needs and difficulties encountered by the elderly.

In front of a choice between care in an institution or at home, most people would prefer to stay in their own home. Even with the choice of home care, the need of professional care is clear, but only 34 % believe that care services for dependent people in their own homes is affordable (TNS Opinion & Social, 2007).

Over the last years, researchers made progress in understanding these basic needs for home care delivery. Nevertheless, we have to overcome the tendency to focus on a single disciplinary perspective.

The key strategy for the future of home long-term care demand an interdisciplinary approach of research and intervention. Medical and care services (limited to household cleaning, or daily assistance with day to day living tasks like washing, dressing and help with meals) are absolutely necessary, but not enough anymore. The evidence provided by research show a strong association between social isolation, health and quality of life.  Recent research has demonstrated that social isolation is a significant risk factor for cognitive impairment and dementia. The low social support increases the likelihood of elder mistreatment. In addition to physical or mental abuse, socially isolated elderly are also very vulnerable to fraud and financial manipulation.

 Although there are evidences that links social support to health and well-being, we still have a long way to go in order to create an interdisciplinary approach between the medical area and social work area, and even more challenging to transform the body of knowledge in integrated home care delivery.

In health-care settings, minimal attention is given to social health status. More specifically, the health-care system shows much more regard for the physical and mental health dimensions of a person, while giving only minor attention to the social health dimensions.

The future of long-term care is a broad concept where social work expertise can bear bold new ideas, scientific exploration and surprising innovations.

Last night, in the opening, Mr Dario Nardella, the Mayor of the city of Florence, mentioned social work as a major component of long-term care. 

Social workers are an active part in creating a sustainable transfer from Quality of Care to Quality of Life.  

I come in front of you with the goal of contributing to greater clarity, utility and meaning of this roadmap for lifting up the lives of older adults that decide to live in their home.

Thank you very much!