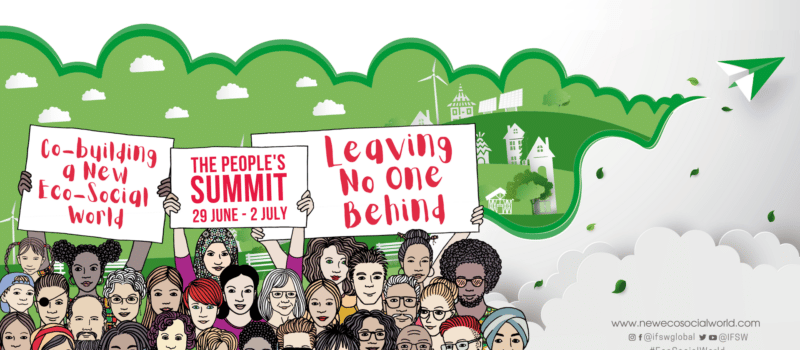 Join now to be a part of shaping the world you want to live in. The People's Global Summit, 'Co-building a New Eco-Social World: Leaving No One Behind' starts in less than three weeks! June 29 – July 2. Registration options include free and full access to all the presentations and for you to make a contribution.
During the Summit, people will find different ways of sharing, and opportunities to contribute to co-build a new eco-social world. These will include presentations from people in communties, live panels, open mic rooms, indigenous-led sessions, story telling, interviews, cultural expression along with workshops, academic presentations, and keynote addresses from political and civil society leaders.
The #PeoplesSummit will run 24 hours for four days, June 29 – July 2. All video-presentations will have a chat section and participants will be able to interact with the presenters, ask questions and make comments throughout the Summit. Read more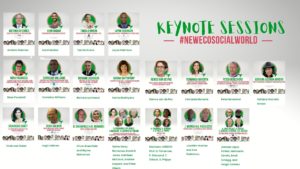 We are excited to announce the following confirmed speakers:
Antonio Guterres, Secretary-General of the United Nations
Kumi Naidoo, Environmental and climate activist
Sylvia Daisy Romanus, Chair of COSS
Hugh Salmon, Director Global Social Service Workforce Alliance
Rosa Pavanelli, Secretary-General of Public Services International,
Oliver Greenfield and Najma Mohamed, Green Economy Coalition
Karene-Anne Nathaniel-DeCaires, Interim President of the Association of Caribbean Social Work Educators
Joachim Mumba, IFSW President and Ana Radulescu, IFSW Vice President
Cornelius Williams, Director Child Protection Programme Team and Global Chief of Child Protection at UNICEF
Tarcila Rivera, founder of the International Indigenous Women's Forum
The programme of the #newecosocialworld offers 16 live panels to interact with panellist from all around the world!
You can he information, but remember, you need to register to access  the Summit platform.
The programme of the People´s Global Summit covers a broad range of topics, from community programs, social movements, academic work and personal experiences, to indigenous rituals, culture and knowledge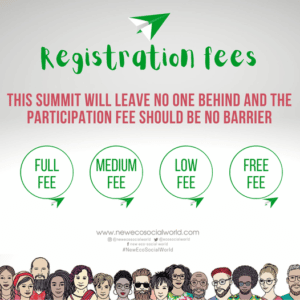 Registration
for the #newecosocialworlde is open. This summit will leave no one behind and the participation fee should be no barrier. Participants can choose to pay:
Full Fee: 75 USD
Medium Fee: 50 USD
Low fee: 20 USD
Name the amount you want to pay
Free participation.
Register here now to have access to all the content and start preparing your participation!