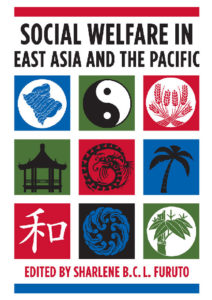 Sharlene B.C.L Furuto (Ed)
Published by: New York: Columbia University Press, 2013, 304 pages
ISBN: 9780231157155
Review author: Aytakin Huseynli, Brown School, Washington University
Book review published: November 28, 2017
---
Social Welfare in East Asia and the Pacific is an excellent general work on social welfare and social work in selected countries in East Asia and the Pacific. It fills the gap in academic literature on global social welfare and social work, offering a useful examination of international social development, welfare and social policy in countries that are less well represented in literature. The editor, Sharlene B.C.L. Furuto (Ed), manages to incorporate historical and cultural background, social welfare provisions and social work practice. Examples of developed and developing nations within the the region help readers appreciate the diversity in trends and challenges of this area.
This book begins with an overview of social challenges, the status of social welfare and social work practice in eleven East Asian and the Pacific countries: Hong Kong SAR, Taiwan, South Korea, Cambodia, China, Indonesia, Malaysia, Thailand, and Guam, Samoa and American Samoa.
Written by subject specialists, each chapter begins with historical events important in the development of these countries such as colonization, war, and civil war and genocide, followed by the history, structure and ideologies of social welfare in these countries. After discussing contemporary social issues, the authors give general information current status of the social work profession and education.
With the exception of China and Thailand, the Pacific countries discussed in this book were colonized, and as a result suffered economically, politically, socially and emotionally, with varying levels of successful recovery. Cambodia, Indonesia, the Micronesian region, and Samoa are still not faring well economically, while Hong Kong SAR, Taiwan, and South Korea continue to improve their standards of living. Today, Indonesia, South Korea and Samoa are independent republics; American Samoa, Cambodia, Hong Kong SAR, Taiwan, Malaysia and Thailand are democracies, and China is communist. With differing governance and history, these countries have developed independent social welfare systems. Where government ownership is high, in for example South Korea, Hong Kong SAR, Taiwan, and Thailand, we see well organized and sustainable welfare policies and services; however, in Cambodia, China, Indonesia, Malaysia, Samoa where government ownership is low, people enjoy fewer services and policies. Social welfare seems well established in countries whose government is transparent, economically stable, fiscally sound and social-policy oriented.
The social work profession and social work education, are intrinsically connected to the history and pace of development of the countries studied here. Early social work education programs started in South Korea (1947), Hong Kong SAR (1950), Taiwan (1950), Thailand (1950) and Indonesia (1957). Twenty years later social work education programs became available in Malaysia (1970), the Micronesian region (1980), Samoa (1990), and more recently in Cambodia (2008). Social work education in China, was interrupted when the Chinese Communist Party came to power in 1949, but reemerged in 1984.
Asian and Pacific cultures seem to share more similarities than with the divergent cultures of Europe and the United States. They clearly face similar social issues such as poverty, aging, child welfare; but some are localized- for example, one child issue, rural poverty, lonely elderly, human trafficking, young pregnancy, early marriages, youth delinquency, discrimination against migrants, health, child labor, imported brides, conflicts with neighboring countries and undocumented laborers. Religion – mainly Confucianism and Buddhism – place group and family needs over personal ones, and value highly the family and encourage people to seek help within their families and clans. In the Pacific Islands, different indigenous cultures play a prevailing role in approaching the system for help that require culture-specific social work practice. Cultural barriers were obvious obstacles for effective practice of social work in the region, and in the majority of the countries studied here, social work is confused with charity and volunteerism.
The book ends with selected best practices from the countries featured in the book, which are applicable to countries which share similar cultural values and historical events.
In conclusion, Social Welfare in East Asia and the Pacific is a valuable resource on regional social welfare by focusing on social welfare systems in East Asia and the Pacific and showing social work as a vital part of social welfare and to further overall progress. However, if Furuto had selected fewer countries to discuss, she could have offered a more detailed, in-depth analysis of the issues.
---
Aytakin Huseynli is a PhD student at Brown School of Social Work, Washington University. He is also the founder and a board member of the Azerbaijan Social Work Public Union.