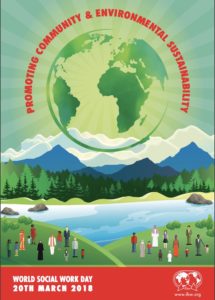 The 2018 World Social Day highlighted 'Promoting Community and Environmental Sustainability'. This was the second and final year of this theme of the Global Agenda for Social Work and Social Development.
World Social Work Day was on the 20th March 2018. It is the key day in the year that social workers worldwide stand together to celebrate the achievements of the profession and take the theme message into their communities, workplaces and to their governments to raise awareness of the social work contributions and need for further action.
Interested in the history of World Social Work Day?
All social work partners and members are welcome to co-brand the WSWD poster by adding their logo alongside the IFSW logo.
Download the 2018 WSWD poster in English
We also invite member organisations to translate the poster into their own languages. Last years poster was translated into 46 languages highlighting global professional unity and common action.
We hope that most organisations will be able to edit the poster for translation themselves, but if this is not possible, please copy the text below in bold, write your translation underneath, and email it to:
Thank you to all – it is a significant professional step forward that globally social workers promote Community and Environmental Sustainability! IFSW will post your translated poster on our website so that it can be shared across the world. (Please note that the IFSW relevant member organisation must approve the translation which may take a few days).
Events on World Social Work Day 2018
IFSW organised events on World Social Work Day as part of its representation work at the United Nation offices in Geneva and New York. More information about our work at the United Nations.
Please find below more information on these events.
Travail social et jeunesse: ensemble vers un développement durable
Mardi 20 mars et mercredi 21 mars 2018
Réservez dès aujourd'hui ces deux dates pour la célébration de la Journée internationale du travail social au Palais des Nations à Genève.
Les discussions seront axées autour de la question suivante: Comment les jeunes, acteurs-clés du changement, peuvent-ils contribuer à façonner de futures sociétés égalitaires et durables?
La journée internationale du travail social est célébrée chaque année, en mars, dans le monde entier.
A Genève, l'édition 2018 est organisée conjointement par la Fédération internationale des travailleurs sociaux (FITS), l'Association internationale des écoles de travail social (AIETS), les Hautes écoles de travail social de Genève (HETS-GE) et de Fribourg (HETS-FR) et l'Institut de recherche des Nations Unies pour le développement social (UNRISD).
La manifestation s'adresse aux étudiant-e-s et praticien-ne-s du travail social, aux universitaires, aux représentant-e-s de la société civile impliqué-e-s dans la gouvernance locale, aux membres d'ONG, d'organisations internationales et des missions permanentes à Genève ainsi qu'à toute personne intéressée.
La note conceptuelle de l'événement est en pièce jointe. Le programme est en cours d'élaboration et les inscriptions seront ouvertes début 2018. Nous vous invitons d'ores et déjà à réserver ces dates et à diffuser l'information dans vos réseaux.
Espérant vous voir nombreuses et nombreux pour cette célébration, nous vous adressons nos plus sincères salutations.
Le comité de pilotage de la Journée internationale du travail social à l'ONU-Genève
Note conceptuelle
---
Social work and youth: towards inclusive sustainable development
March 20th and March 21st
Please kindly save these dates for the annual celebration of the World Social Work Day 2018 at the UN in Geneva.
The discussion will be based on the following question: How young people can thrive and contribute to building equitable, inclusive and sustainable communities?
Every year, the World Social Work Day is celebrated all around the world in March. The 2018 edition is co-organised by the International Federation of Social Worker (IFSW), the International Association of Schools of Social Work (IASSW), the Schools of Social Work of Geneva and Fribourg (HETS-Genève and HETS-Fribourg) and the United Nations Research Institute for Social Development (UNRISD).
The event is addressed to the Social Work' students and practitioners, to the academics, to the representatives of the civil society involved in the local governance, to the members of NGOs, international organisations and permanent missions and to anyone interested.
The event's concept note is attached. The program is under development and you will be able to register at the beginning of 2018. We kindly ask you to save theses dates and share the information with your networks.
Best regards,
The steering committee of the UN's WSWD
Concept Note (EN)