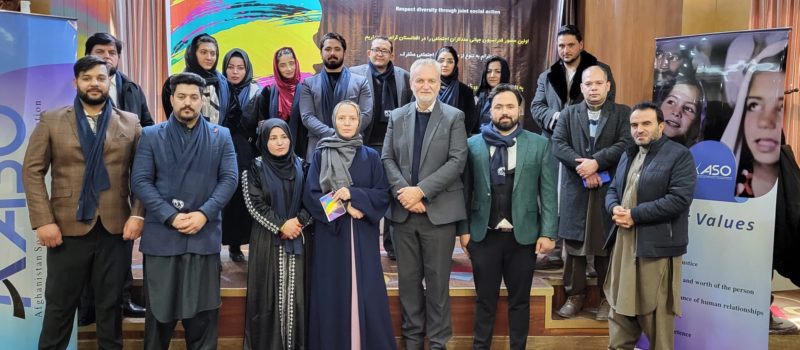 (In the photo: Members of the ASO board with IFSW representatives)
At a press conference today in Kabul, the Afghanistan Social Work Organization (ASO) invited speakers from The Ministry of Labour and Social Affairs along with IFSW to address the press on social work's contribution to Afghanistan's social development. 30 press agencies came to the event including live television coverage.
The scale of the issues faced by the Afghan people with the absence of infrastructure and the geopolitical decisions that have paralyzed economic activity, have resulted in extreme poverty and isolation from the rest of the world. When there are so few resources, the people have to be resourceful for survival.
The focus of the press conference highlighted that the social workers in Afghanistan are a resource for people, working within communities, for economic and social development. The President of ASO Masoud Ayubi said, "We have links with every community. Our profession is now permanently established in Afghanistan.  We are confident that we can work with many partners, communities, government, and people for sustainable and resilient development."
IFSW reinforced this statement with the Secretary-General, Rory Truell saying, "Social workers see the resources in all countries rooted in the strengths of people, families, communities, and cultures. These are foundations for building the economy, public services infrastructure, and social protection systems for thriving futures."  He added, "Our international experience of countries with similar challenges tells us that working together to design and implement this infrastructure can result in rapid social development." The representative from the Ministry of Labour and Social Affairs confirmed the importance of social work to the country's future.
During the press conference, the media directed a question to IFSW global Vice President Ana Radulescu saying: "You are a woman and have been talking to the Taliban ministers, have they promised you to remove the ban on women working (in NGOs)? She replied, "That since being in Afghanistan, we have continuously been told by everyone that the ban is intended as a temporary measure while the government works through its political dispute with the UN. Social workers work with everyone in processes that bring people together in respectful understanding to move forward, which at this stage is more important than seeking an aspirational promise."
The press conference concluded with the signing of a Memorandum of Understanding between ASO and IFSW for continued work in supporting the development of social work in Afghanistan. The proceeding was widely covered in the Afghan news media. For example: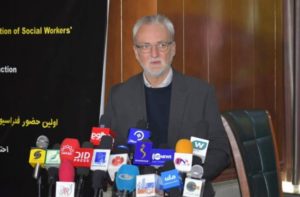 کمک‌های فدراسیون بین‌المللی مددکاران اجتماعی دوام دار است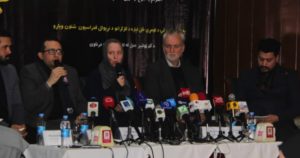 مسوولان حکومتی و نهادهای مددرسان تفاهم‌نامه همکاری امضا کردند
Following the event, the first-ever World Social Work Day celebration was held (early) in Afghanistan. ASO produced a cake iced with the global social work day theme: Respecting Diversity Through Joint Social Action.