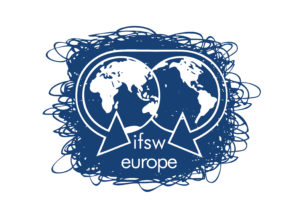 IFSW Europe launched a project that highlights the social work contribution to a transformational and sustainable social protection in Europe
The overall aim of the project proposal is to increase the capacity of IFSW member organisations to influence the development of European Pillar of Social Rights and the White Paper on Future of Europe in the interest of social work services development and service users support, but also for covering the social workers needs for proper resources and tools to help people in needs.
The relevance for this project comes from the fact that IFSW members need to actively engage and actively influencing the social policy in Europe and makes their perspective visible. The project will create the frame to put the IFSW and the social worker's principles into action. As social workers, as well as IFSW member organisations, we should be involved in the future social and economic of Europe.
The IFSW contribution through the regional project it is related to two areas:
To support and contribute to the debates on the Social Pillar in partnership with the European Commission and European Parliament.
The White Paper on the Future of Europe. The European Commission will contribute to the debate in the months to come with a series of reflection papers on developing the social dimension of Europe and IFSW can be a direct partner.
The project will be financed under the IFSW Funds. The project has two years duration (2017-2019) and will engage all countries in Europe.
IFSW Europe is inviting the members to be part of developing the social dimension of Europe.
If you would like more information on the activities of the project, do not hesitate to contact us at: