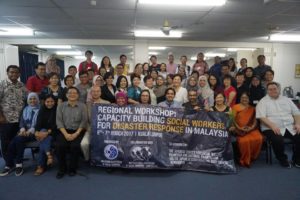 The Malaysian Association of Social Workers (MASW) and the International Federation of Social Workers, Asia Pacific Region (IFSW-AP) co-organized a training workshop to enhance the capacity of social workers, human service professionals, and volunteers dealing with disaster response activities on 6 & 7 March 2017, at MAKPEM, Kuala Lumpur
87 delegates attended the workshop. There were several participants from overseas, namely 5 from the Indonesian Consortium of Social Workers, and 1 each from Bangladesh, India, Pakistan, Singapore and Palestine.
The workshop is partially sponsored with funding from the Japanese Centre for Social Welfare Promotion and National Examination (via the Japan Coordinating Body for IFSW membership).