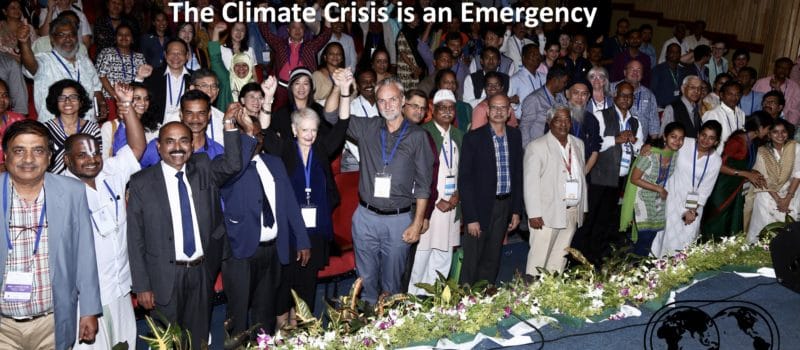 Delegates at the Asian-Pacific Social Work Conference today joined in the global action for climate justice declaring that: The Climate Crisis in an Emergency.
Comments from conference participants included:
IFSW Asia-Pacific Regional President Rose Henderson said, 'In our region, evacuation plans are already in place as water levels rise in the Pacific ocean. There is no time to spare, this is an emergency'.
Associate Professor Jioji Ravulo from the University of Wollongong, Australia said, `Climate justice is now a major focus for social work across the world. Across our Pacific Islands, we are experiencing the real-world impact through loss of traditional lands and environments. Let's work collaboratively to combat the negative impact of climate change through sustainable practice, policies and research'.
Representatives the Delhi School of Social Work at the Community University said, 'Collective responsibility for climate change is the need of the hour!'.
Francis Xavier from India said, 'Climate change affects not only humans but all species. We have a responsibility for all species'
Ashwini Kirti from India said, 'We have to promote more awareness of climate change in the rural and marginalized communities as they are the most vulnerable. Education for all people is essential for making the changes needed'.
Lithin Zacharias from India said, 'Behavioral change should happen at all levels from the top to the grassroots level so we can work and make changes together in order to build capacity for climate change'.
IFSW Secretary-General Rory Truell said, 'Here at this Asia-Pacific conference we have heard of many examples of people in poverty and people in rural villages taking action on climate change. They have banned plastics from their villages, they have adopted waste management and recycling systems, they are sustainably farming. If communities with all the challenges of poverty can do this, the rest of the world can follow their example now'.
All the conference delegates representing 33 countries declared: 'The Climate Crisis is an Emergency' and identified the social work role in taking action.