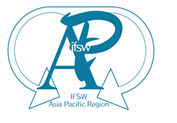 Statement of the IFSW – Asia Pacific Regional Commission to the United Nations on Afghanistan
The International Federation of Social Workers. UN Commission Asia-Pacific expresses its deep concern about the situation of the people of Afghanistan. While over two million people were forced to flee to other countries in the past few months, many more have been displaced inside Afghanistan. In addition to war and conflict, many have fled because of the fear of persecution in Afghanistan, including minor groups, social activists, female activists, and those who helped foreign organizations.
The commission urges respective entities in Afghanistan, Afghanistan neighbor countries, those countries presented in Afghanistan over the past 20 years, and the international community, to accept and fulfill their responsibility of supporting the people of Afghanistan considering the Universal Declaration of Human Rights. Those who need asylum and refuge in other countries should be granted these rights, and no one should be harassed in Afghanistan because of their gender, ethnicity, idea, and belief. Especially those who used to work/are working as social and humanitarian workers in Afghanistan with the government or with international organizations should not be persecuted because of their responsibilities.
IFSW-AP UN commission is expressing its full support to humanitarian workers working with people of Afghanistan all over the world and are being overwhelmed because of the current situation. Millions of people of Afghanistan are traumatized, and humanitarian workers who are serving them are at serious risk of vicarious trauma, burnout, and compassion fatigue. The commission is encouraging organizations employing these social/ humanitarian workers to recognize these risks and take necessary measures to care for them.
The commission hopes that the many decades of war and instability in Afghanistan, which is negatively affecting generations, will soon be over by the formation of an inclusive and democratic government in Afghanistan.