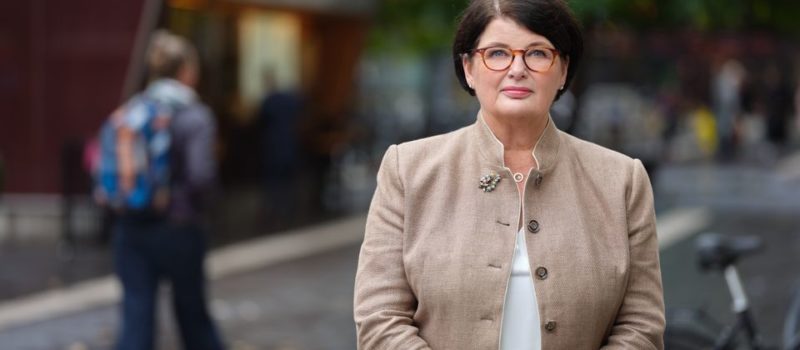 Photo: Heike Erkers president of Akademikerförbundet SSR
Akademikerförbundet SSR, the Swedish Social Work trade union, have criticised government plans that require social and health professionals to report any persons living in Sweden without a permit.
The social work trade union has issued a statement condemning the suggested legislation with some of the following arguments:
"Public trust is an absolute necessity for our members to do their jobs. The lack of trust leads to the fact that the person who needs welfare the most will avoid contact. Social workers are not supposed to do police work it would undermine the public trust from societies most vulnerable", says Heike Erkers president of Akademikerförbundet SSR
The lack of trust is going to spread and affect the conditions for doing the job. It would make the outreach and prevention activities that social services carry out harder and in some cases near impossible. The lack of trust can also lead to serious healthcare injuries and increased spread of infection.
A reporting system would cause human tragedies because people would not dare to seek help or get the help they need. Children who have the right to education would stop coming to school if the parents knew teachers where obliged to report their students. Pregnant women will not dare to contact the maternity care and people in need of health care would not dare to turn to the hospitals or primary care. People who are victims of crime or people in a dependent position will not dare to ask for help.
IFSW European Regional President Ana Radulescu said, "The concerns raised by social workers are genuine and reflect the potential negative consequences of reporting requirements for individuals living in Sweden without a permit. IFSW Europe expressed solidarity with social workers and share similar concerns regarding the potential negative impact on vulnerable individuals and the ethical implications involved. Imposing a mandate to report can have severe consequences, compromising public health and increasing vulnerability among marginalized populations. By advocating for inclusive and equitable access to social and health services, social workers play a crucial role in promoting social justice and ensuring that individuals receive the necessary support they need."
IFSW Secretary-General, Rory Truell, commended Akademikerförbundet SSR for taking this stand: "They are enacting an important role of independent social work representative organizations by challenging their government's intended policy that will result in significant harm to migrant communities and the wider social landscape of Sweden. This situation is unfortunately not just limited to Sweden as other governments around the world also seek to expel and discriminated against undocumented residents rather than working with them in recognizing and realizing their contributions to society. The campaign of the Swedish social work organizations models the essential role of social work to every society in correcting political policy mistakes. We wish them every success".