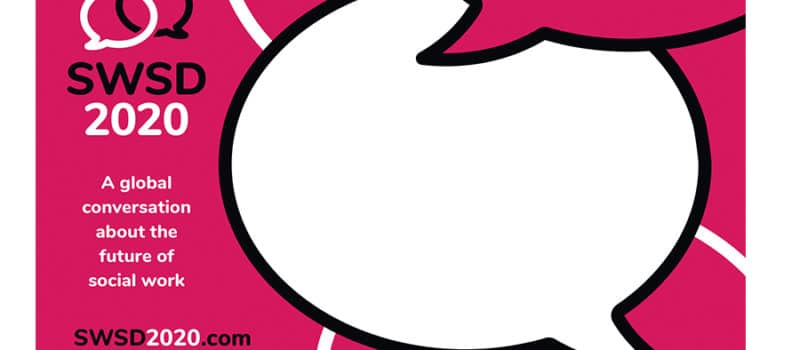 Planning for the SWSD conference was based on a tremendous vision. Rory Truell, IFSW Secretary-General, states that the conference was to be 'a global conversation that sets the priorities for the social work profession for the next ten years.'  Social workers, civil society leaders, political leaders and representatives of communities from throughout the world all supported this vision and planned to come to Calgary, Canada for this purpose.
Now, however, we have come to a critical decision point.  IFSW and the Calgary hosts of the SWSD2020 conference have been monitoring the fluid COVID-19 global pandemic.  As this unprecedented global crisis unfolds in the coming weeks and months it is vitally important to us that everyone is safe and we ensure we do not put anyone at risk.  The organizers are committed to being proactive and socially responsible.  We want to ensure that we are not contributing to the further spread of the virus. We now conclude this can only be achieved by cancelling the 2020 SWSD conference.
This decision has been incredibly difficult and comes only through intense consultation and discussion. We have reviewed all alternative options and postponing is not viable.  There is now a ban on large gatherings in Alberta, the Canadian province in which Calgary is located. The Government of Canada has just announced sweeping restrictions on the entry of citizens from other countries. General restrictions on travel and the need for social distancing and isolation are paramount at this time.  We also understand that many of you are frontline in the fight against COVID-19 and that you are supporting vulnerable communities. This last role, and your professional obligations as outstanding social workers, must take precedence at this time.
While the 2020 SWSD conference must be cancelled, IFSW is committed to the creation of a 2020-2030 Global Agenda for Social Work. Social workers always adapt to a rapidly evolving environment and this will be no exception. IFSW will shortly release information on its website regarding a dialogue to renew the global agenda for our profession.
IFSW expresses its full thanks to the Faculty of Social Work, University of Calgary and all of the wonderful team who worked so hard to plan the conference. He offers to them the following statement: "Your dedication to the social work profession and willingness to find new ways to maximise global participation in the conference set new benchmarks. We look forward to working with you again in future projects."
There are now many details to complete in wrapping up our conference planning. It is important to note here that all paid registrants will receive a full refund. This is an enormous task and we ask for your patience as this will take 30 – 45 days to complete. When your refund is forthcoming you will receive an email noting your registration has been cancelled and a refund will be made shortly thereafter.  Please do not contact our office about your refund, if you have not received your refund by May 15, 2020 please contact
Finally, to all who planned on attending, we say thank you.  We wish you good health and thank you for the sacrifices and contributions you are making in your communities. May you be safe and may your communities remain strong.
IFSW President, Silvana Martinez further commented, "I thank, on behalf of the IFSW Executive, all of the people who have worked on this project for more than four years and we will always be grateful for your commitment".
Shortly, IFSW will publish information on its website regarding an online process for contributing to and participating in the Global Agenda for Social Work 2020 to 2030.