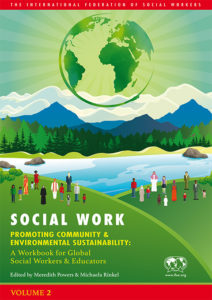 At the opening of the Social Work and Sustainable Development Joint World Conference in Dublin, IFSW is proud to launch the second volume of an important series:
Social Work Promoting Community and Environmental Sustainability: A Workbook for Global Social Workers and Educators, Volume 2.
The 19 chapters demonstrate the incredible work that is being done all over the world by social workers addressing issues at the nexus of community and environmental sustainability. This volume of the workbook series focuses primarily on Indigenous voices and knowledge, eco-therapeutic practices, and the interdisciplinary nature of sustainability in social work. The workbook is intended as a tool for international social work practitioners, students, and educators to help advance the Global Agenda for Social Work and Social Development theme of "working toward environmental sustainability.
Download the PDF version for free from 9am GMT time on July 4th in our bookshop.