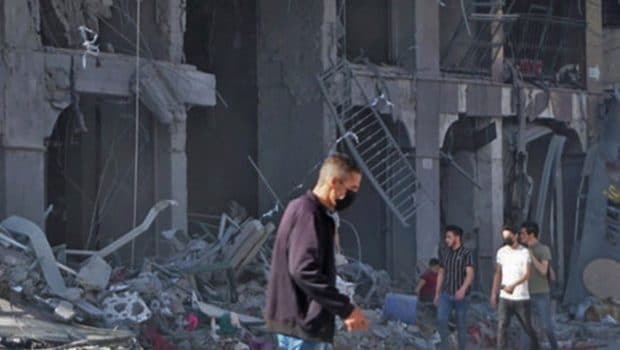 The Israel / Palestine war is an International disaster with the potential to escalate in the region and beyond. Such a conflict could affect each and every one of us and requires global action to support a peaceful and just resolution.  Social workers from every part of the conflict area have contacted IFSW to express their fear of the Israeli government sending ground troops into Gaza. All have said that it will increase the death toll exponentially. Social workers in other parts of the region are concerned that this escalation will fuel tensions which have already created refugee camps with millions of displaced persons. Diplomats globally have reported their fear that this escalation will lead to a massacre that will have wider repercussions.
A social worker in Gaza corresponding with IFSW described the situation over the weekend:
We live in the north of Gaza, Jabalia camp, which is a battleground at the moment. Yesterday, the shelling was sporadic in the Gaza Strip and was focused on safe houses and cars moving in the streets, hitting facilities, and hitting large towers as you saw on television, and the sounds of explosions were echoing everywhere.

When night comes, fear and anticipation begin from the beginning of a new day at 12:00 am because in these hours the warplanes, artillery, and naval battleships intensify the bombing on us. I helped my wife to prepare dinner for our who have had to flee their houses. There are approximately 22 of us who sit in a large room that we think is safe.

We started to eat dinner as the violent bombing started and we saw the flash of explosions, felt the shaking of the house and the rush of the doors due to the air pressure. The children fled to the safe embrace that makes them feel safe, but then the child feels the fast heartbeats of their parents who shiver and cry as the bombing is only 400 meters away from my house.

The bombing stopped for a while and we heard the sound of the paramedics screaming. The bombing intensified again until it lasted for more than two hours straight. We expect at any moment to be among the dead or the wounded.
Within the diversity of social workers living and working in Israel, we have heard from Jewish social workers of fear that the aggressive strategy of the unstable Netanyahu administration is leading to the catastrophic loss of life. An Israeli Palestinian social worker has reported she was too afraid to leave her house for fear of being attacked by mobs in the streets. On the West Bank, social workers have been randomly shot with rubber bullets and fear this is heading towards their ´extermination´.
Calls from the international community supporting one-side or simple messages to reduce violence, or that each nation has the right to defend itself, have not been effective in working towards resolution. IFSW calls on its international peers and members to reinforce a process where all sides to this conflict can work towards a common vision for peace, equality and social/economic development.
IFSW recognizes that the long-term goal is a locally agreed and internationally supported political solution. We join the call for UN Peacekeepers to replace all Palestinian military systems and the Israeli Defense Force at all points of interaction, enabling self-governance and self-development of the Palestinian peoples.  Stopping violence and enabling self-determination are critical factors in building trust and engagement between all parties. For UN Peacekeeping to commence, each government and authority must agree. For UN peacekeeping to be effective the international community is required to observe, finance and actively support a common vision that enables all to live securely with self-determination, self-governance and coexistence.
Key factors in achieving this requires us all to support the people of Palestine and Israel to:
Recognise each other´s rights
Recognise that the solutions involve all sides
Recognise that land is there to support everyone, and we have a responsibility to care for it and each other.
These core principles have assisted the transformation from war to peace in many places throughout the world. Evidence from our global members has shown that peace processes are successful when engagement takes place at both the political and civil society levels and a new vision is formed with a focus on joint and better futures.
Issued by IFSW President, Silvana Martinez and Secretary-General, Rory Truell