Kerala Association of Professional Social Workers (KAPS), one organizations members of the India Network of Professional Social Workers Associations organizes the First Time Students Award on the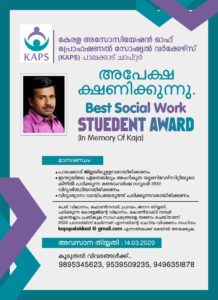 World Social Work Day 2020.
Ms.Sharanya, a tribal girl from Attappadi, is the first recipient of KAPS Student Award 2020. She  was presented the award by District Collector D.Bala Murali .IAS in his chamber's.
Ms.Sharanya was recognized for beating all odds and her hard work. Sharanya is the daughter of the tribal head  Mr.Rangan and Mrs.Lakshmi. She  hails from Cheerakkadavu village under Puthur area at  Attappadi  in Palakkad district .Sharanya was the high scorer in SSLC Examination in 2013 in  ST Category  from St Peters convent Kookampalayam and continued her PLUS TWO in GVHSS Agali. After BCOM from IHRD college she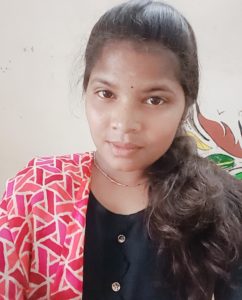 joined for MSW in Bharathiar University. Sharanya was the only student to get selected by all the Juries among many nominations from Mumbai Tata Institute of Social Science, St.Gregorios College of Social Science Pathanamthitta,Vimala College Trissur, Mercy College Palakkad and Ideal College Cherpulassery.
Due to the present pandemic situation the function was arranged in Collectors chamber. Senior Grade Public Prosecutor P.Premnadh honoured her. The Cash prize was awarded by Ms.M.Nabeesa Sulaiman .KAPS District President Satheesh Secretary Drisya K M, KAPS Regional President S.Abdu Rahman, the Active Members Saumya John ,Bibith K.B ,Sangeetha K, Jijin G Fr.Lenin Antony and Sareena M were present for the ceremony.
As part of world social work day celebrations Kerala Association of Professional Social Workers (KAPS), Palakkad district chapter request to all Professional Social Workers in Indian to file a
petition to MHRD & UGC to declare Masters in Social Work Programme as a professional course
.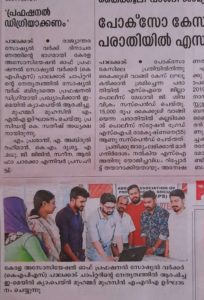 As part of this process an e-mail petition campaign was inaugurated on 14/03/2020 by, Mr.  Muhammed Muhsin (MSW), the Hon. Member of Legislative Assembly of Kerala (Pattambi  Consistency).