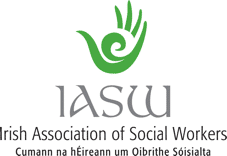 In April 2020, social workers deeply concerned about disproportionate impact of Covid-19 on vulnerable residents in nursing homes and a wide range of residential settings, came together to share their professional expertise on how social work was adapting and responding to the needs of residents and their families. Social workers listened to the experiences of residents and families, drew upon existing and evolving messages from research and shared learning, resources and tools developed since the onset of Covid-19 across a range of Irish social work agencies and settings.
The model outlined in this document is informed by this collaborative expertise and provides a way to share learning across the profession so that social workers can provide the psychosocial supports that residents and their families urgently require. The model has been operationalised in varying forms in St Mary's Hospital in the Phoenix Park, the Navan Road Community Nursing Unit, St Clare's Community Nursing Unit, Clarehaven Community Nursing Unit, Lusk Community Nursing Unit and CHO 7 in Hollybrook Lodge Residential Care Centre. It has also been adapted for use in mental health services in CHO 9.
Social workers have particular expertise in the co-ordination and delivery of skilled communication care. Communication care is a key component of the model, ensuring that residents and families receive complex and distressing information in an empathic and sensitive way, from a consistent, supportive professional. In doing so, the model addresses lessons from previous reviews into healthcare failures which recognise distress and grief are compounded by a perceived lack of compassion from health and social care services. HIQA (2019) called for stronger safeguarding measures to be put in place to deliver care to residents. The delivery of a liaison role allows social workers advocate for individuals and families to ensure that their rights are understood, respected and reflected in the work practices of the care setting.
Through a systemic psychosocial, palliative and bereavement care approach, the model provides the practical, social and emotional support requested by residents and families
and provides opportunities, to mitigate future grief. It is evidence informed and draws
on the professional wisdom and experience of Irish social workers. The model delivers a holistic model of care, recognising that people living in nursing home and residential care settings have a wide range of needs. Most importantly, bereaved families have given positive feedback about the support they received through this model of care. We hope it can support all vulnerable residents and their families during the Covid-19 pandemic.
The IASW has developed key recommendations to inform a national equitable response to the unmet psychosocial needs of all unwell individuals, dying people and the bereaved.
You can download the document here: Liaison Social Work Model_IASW2020