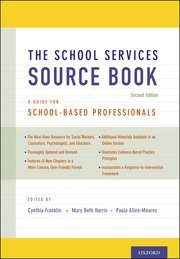 Cynthia Franklin, Mary Beth Harris, Paula Allen Meares (eds)
Published by: Oxford: Oxford University Press, 2013, 1008 pages
ISBN: 978-0-19-986175-0
Review author: Mahia Saracostti, Chile
Book review published: May 22, 2018
---
The School Services Sourcebook is a comprehensive resource that covers the most important ant timely information needed for school based practices. It is a unique resource of this kind available for international audiences. This educational resource offers practice briefs that busy school professionals could quickly consult for help in their work. This book is an excellent "desk reference" that provides an extraordinary overview of the updated knowledge, tools, and resources that can help practitioners to improve their work in the schools.
The School Services Sourcebook, Second Edition has been revised to provide best practices to school based social workers, psychologists, counsellors, educators, mental health professionals and administrators who work in school settings or whose practices involve consultations or interventions with school systems.  It is also a very complete resource for undergraduate and graduate students.
One of the strength of this book is that communicates evidence–based knowledge from research to practice in a way that practitioners could easily consume this knowledge, providing the best practices through easy to  read. Each chapter serves as a detailed conceptual framework and intervention map quickly summarizing the problem area before presenting instructions on how to implement an evidence based practice with clear goals and methods to measure the outcomes.
The second Edition addresses relevant up to date issues such as Responses to Intervention, positive behaviour support, the school climate, functional behaviour assessment, the integration of ethics, autism and suicide, school engagement, immigrant families, and so on.
The book provides an overview of school services through 73 chapters divided over five parts. In Part 1, chapters 1 to 4 covers methods and frameworks for improving school services such as Response to Intervention, school climate initiatives, functional behavioural supports. All of these approaches emphasize prevention, school wide initiatives and the use of evidence based practices. Social complexities have increased for schools, making it more important tan ever for school professionals to know how to respond to the ethical current dilemmas they may face in the delivery of their services.
Part 2 illustrates best practices interventions for students with mental health diagnosis, neurodevelopmental, learning, and physical disabilities. Even though schools do not emphasize mental health diagnoses, they continue to be one of the main institutions to offer services to children with mental illness, making it important for school professionals to know how to work with these children in school setting. Chapter 5 shows a general picture about psychopharmacological treatment for child and adolescent mental disorders while Chapters 6 to 13 identify effective interventions for children diagnosed with one or more mental disorders. In the following section, chapters 14 to 19 discuss timely updates and information on how to best help these children with neurodevelopmental, learning and physical disorders, along with many resources for designing effective school programs.
Part 3 offers best practice resource for substance abuse, health, interpersonal and social problems covering a smorgasbord of essential topics such as substance abuse prevention, sexually transmitted diseases, dropout prevention, violence, bullying and conflict resolution, and child abuse, among other relevant issues. Substance abuse, sexual transmitted diseases and obesity are among the most prevalent health challenges facing today´s schools. Chapters 20 to 23 provide effective practices and resources for both preventing and intervening these issues. Chapters 24 to 27 provide best practices for how to respond to students who may be impacted by child abuse, Foster care placement, or juvenile justice involvement. Chapters 28 to 32 provide best practices for increasing student engagement and preventing school dropout. Chapters 34 to 40 discuss best practices for violence prevention and conflict resolution, helping school practitioners to learn what the most effective practices and resources are for both prevention and intervention into different types of violence – including bullying, sexual assault, dating violence, gang violence, and interpersonal conflict between students, their peers, and teachers.
Part 4 covers crisis intervention, group work, and training topics such as suicide prevention, preparing for disasters, in – service training and professional development, and resources for parental and family involvement. Chapters 41 to 44 provides best practices to follow and several resources for helping students and school professionals address different types of crisis situations that schools may face, including suicidal threat of students, natural disasters, violent crises, and grief and loss situations. Chapters 45 to 48 discuss effective group work, training and professional development resources as some of the most effective ways that school based professionals can increase their personal impact on school services and may also be cost – effective alternatives to more individually designed practices. Chapters 49 to 56 discuss best practices for working with different types of families, how to remove barriers that may keep students from succeeding in schools. These chapters include effective practices and resources for engaging with diverse families and increasing parental and family involvement.
Part 5 of the book covers how to improve multicultural practice, community relationships, and accountability and resource development for the school. Chapters 57 to 63 address how to work effectively with children and families of colour of various sexual orientations and offer further discussions about the best practices available to improve the school engagement and education of multicultural and diverse populations. Chapters 64 to 67 discuss best practices and resources for assessing school and community resources, integrating community services such as health care, and the development of successful transition plans for students. Chapters 68 to 73 offer timely updates and best practices that may help to improve the accountability of school professionals. They also provide information about the funding of school – related services and how to obtain additional funds from grant writing, show how to assess and effectively report the outcomes of school – related services and emphasize the increasing important of translating evidenced – based practices from research settings to the school settings.
---
Dr Mahia Saracostti is Director of the Research Center on Socio-educational Processes, Families and Communities at the Universidad de La Frontera. She has a PhD in Social Welfare, City University of New York; and an MBA and Social Worker, Universidad Católica de Chile.