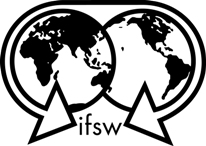 Statement from IFSW:

Trump's victory highlights the failure of contemporary democratic systems, the importance of people's engagement in their futures and the reaffirmation of the social work roles in political process.
Last weeks vote in the USA propelling Donald Trump to President Elect highlights the failure of the current democratic systems. The winner was clearly the culture of non-voting and the alienation of people from the systems that control their day-to-day lives and futures.
Donald Trump received 23.7%, Hilary Clinton a fraction higher at 23.8 while 42.2% percent of eligible voters did not engage in the electoral process – plus a further 7.8% of people prevented from voting – resulted in 50% of people not participating in the democratic process. From the point of view of anyone, not just social workers, this outcome represents a massive failure in people's engagement in the political systems that dominate their lives.
Social workers are acutely aware that voting every 4 years in the secrecy of a private booth does not secure the kind of democracy and political structures that are needed to engage people's involvement in the environments that dictate their health, security, rights and future wellbeing. Such limited democratic processes lack the interest and ability that brings interaction and engagement between peoples. Voting every 4-years without further involvement, is the weakest form of democracy.
Such a simple concept of democracy only asks people to say 'yes' or 'no' to a political future in which they are not engaged. Instead of interaction, people are subjected to manipulative political arguments that tell them that this race or those countries are the reasons for their disadvantage and discomfort. The reality and consequence is people's disengagement, disillusion and alienation from the structures they need to be involved with.
Such alienation is compounded by the inequality between the establishment and people seeking justice because of flawed social policies. The driver is to protect the status quo rather than working in co-production to find transforming solutions.
Social workers have been consistent advocates with people and communities to be actively involved in shaping our environments. This is a part of the profession's belief that oppression and difficulties must be addressed at their root-cause and not just at the symptom level. The role of social workers is facilitating solidarity within families, groups and between groups for the development of systems and structures that are inclusive and respect the dignity of all people. It is therefore natural for us to advocate for the development of active and engaging democratic structures, which support people's participation in decision making.
IFSW promotes the development of legislation in all countries that recognizes the importance of community involvement in building real democratic structures. From a social work perspective, social services and welfare systems should be key platforms in building community cohesion and solidarity. Focusing on prevention rather than symptom relief social services should involve bringing communities together to actively participate and shape societies for the benefit of all peoples. The social work contribution is to use our skills in bridging peoples together and facilitating the translation of recourses into sustainable outcomes and self-reliant, confident families and communities.
The minority of US citizens successfully voting for Donald Trump as President Elect doesn't reflect a healthy democracy, nor is it an isolated situation. Brexit, the growth of polarised political parties, the intensification of racism, blaming refugees, discrimination against differing sexual orientation and identity are all consequence of political actions based on fear – not the real engagement of people based on listening, understand and working together for a better solutions.
The challenge of such limited versions of democracy has implications for the social work profession. In reaction, we continue to reinforce our focus on facilitating formal and informal community support systems. We champion the building of solidarity between peoples and supporting the voices of communities. We work with governments presenting evidence on the benefits of building social capital to achieve economic and social sustainability. We join the demonstrations and movements linking peoples together in the call for real democracy and the recognition of all people's rights. We speak together saying: No to governance of the people – and – yes to 'governance by the people'.