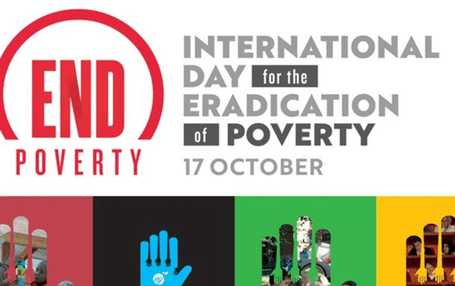 On this International Day for the Eradication of Poverty, IFSW highlights that no one should live in poverty.
In acknowledging the vision of the SDGs, IFSW recognises that Social Protection Systems are expected to be an essential component in eradicating poverty. From the profession's global experience, we express deep concern with the failure of the current social protection systems which often maintain people in poverty rather working with them for transformational change.
Social protection systems in many countries are sparce and fail to provide their populations with opportunities to realise their rights and potential. State social infrastructure, welfare policies and models are often designed to provide a minimal safety-net of support after a social crisis has taken place, rather than working with communities to prevent social crisis.
Such systems should address the causes of poverty and support communities to meet their aspirations of overcoming poverty, oppression and marginalization.
Transformative social protection systems are one of the essential building blocks to eradicating poverty. We recognise that the world faces an imminent economic depression as a result of the COVID pandemic, failure to address inequality and climate change. These major global crises will push more people into poverty. This is further exacerbated by the current geopolitical context prioritising, for example, national tax cuts and global trade practices that widens the wealth gap between the rich and poor. These issues must be addressed both locally as well as globally.
Social workers are ready and able to engage in their communities with conversations and actions to develop sustainable environments for people, families and the wider community to enjoy that include new transformative social protection systems.
Our joint futures are going to be shaped by how we work together to eradicate poverty.
Silvana Martinez, IFSW President
&
Rory Truell, IFSW Secretary-General