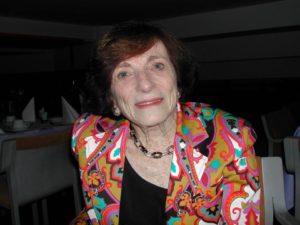 Ellen was a long-term IFSW leader, supporter, volunteer and representative to the United Nations and between 1975 and 1993 the IFSW Assistant Secretary-General. Below are links relating to Ellen's life an work and following this tributes from her friends and colleagues who worked alongside Ellen or took inspiration from her in developing international social work and advancing human rights.
Link to Ellen's article on The Significance of Birth Registration in Today's World
Link to an article Ellen wrote in 1976 on Social Work and Human Rights (in French)
The notice announcing Ellen's service in Geneva
From Ruth Stark IFSW Global President 2014 – Present
Many of us in IFSW are saddened to hear of the death of Ellen. The widow of Andrew Mouriavieff Apostol and Secretary General of the Federation from 1975 until 1993. This remarkable couple built the current infrastructure that has moved it from the 56 members to double its size now – but more importantly took us on a journey of involvement as an NGO at the UN, publishing two training manuals – one on the Declaration of Human Rights and the other on the UNHCR.

Ellen did much to promote the Human Rights issues within the profession, particularly the right to birth registration papers, as the key to identity in a modern world, but where for many children and their families the recording of the birth and the documentation were outwith their reach. After attending the General Meeting in Hong Kong in 2010 she gave a most erudite paper at a special seminar on birth registration describing how we still have an estimated 4 million children without documentation within the World Congress. By then she was in her 80's when most people would have long been retired.

Ellen was a dancer, she had that elegance of movement and love of music that provided that balance in understanding life. She commented during a difficult conference in St Petersburg in 1995 on the importance of dance and theatre as a means of expression when people are oppressed. She danced well into the night at the world conference in her home country of Brazil in 2008.

I first met Ellen in 1989 in Basel in Switzerland. It was my first international conference experience. The promised crèche facility for our two young children suddenly was struck with scarlet fever; Ellen was quick to the rescue and helped my husband and myself manage attending the conference and arranging childcare. I did not really know who she was then but as we worked together over the years, particularly with children's rights issues, I came to know her and admire her passion and commitment to making a difference to people, particularly those who are displaced. She was so unassuming, but very clever at getting you to deliver beyond your expectations. As we sat in her apartment with the portraits of Andy's ancestors around us on my last visit to Geneva there seemed to be an acknowledgement that time was passing – but there was still that expectation that we would go on working that little bit more than we thought was possible.

IFSW owes a huge amount to the legacy that Andrew and Ellen Mouravieff Apostol have left us with; we now have to build on their foundations to ensure that we can fulfil their vision of the dignity and worth of all people. – Ruth
From Rory Truell, IFSW Secretary-General
'All children have the right to have their birth recorded' was one of the first comments I remember Ellen said to me when I asked her about her work.

Ellen Mouravieff-Apostal was a social worker, leader in IFSW and with her husband Andrew the force that grew international social work in crucial years from the 1970s through to the 1990s when they both fulfilled the role of Secretary-General. Her commitment went beyond this role and she remained stedfast to social work and the people it serves.

In the last 20 years Ellen was IFSW's main representative to the United Nations in Geneva and it was during this time that I first met her. A small woman that defied her age and through her grace and elegance could capture the attention of the entire audience of any room she entered. When speaking individually to others they felt somehow just a little bit more special – as if her inner core of acceptance and belief in people rubbed off on those around her.

Among her many gifts Ellen had a capacity for languages which she could smoothly interchange in multinational settings. I asked her once, what was her mother tongue; she shrugged her shoulders and said, 'There are so many languages in my family I really cant tell you which one was first. Portuguese', she shook her head, 'I have never known' . Ellen used this skill tirelessly for IFSW and would spend multiple full days translating IFSW meetings between, English, French, Spanish, Portuguese, Russian, German and languages beyond.

Her IFSW work at the United Nations (UNICEF) primarily focused on encouraging governments to register the births of children. 'All children have the right to have their birth recorded, it shows that they are recognised as a citizen', she told me. I thought of Ellen earlier this year and hoped to be able to tell her that I saw social workers in the typhoon affected areas of the Philippines assist people to regain their birth papers after the originals had been swept away with all their belonging. The Philippine social workers, half a world away and young enough to be her great grand children explained, 'Birth papers are so important, they make the person have rights and identity under the law'. I didn't get to tell Ellen this, but I'm sure if we'd had the opportunity, she would have provided many other examples of the importance of social work assisting people to realise their rights.

Ellen has had a profound effect on generations of people in IFSW. There are many stories of young social workers that felt lost, isolated and overwhelmed while attending their first international conference, and Ellen approaching, befriending and connecting them with others. Then maintaining contact by letter or email for following years.

Ellen will be greatly missed in IFSW but her passion, commitment, wisdom and spirit will live on in the many people she touched and inspired.
From Tom Johannesen, IFSW Secretary General from 1993 to 2009:
Ellen was my mentor, inspiration and as it developed good friend for three decades. She was one of the most engaged persons I have met, always there for human rights and children´s rights and opportunities. With her wonderful combination of seriousness and humor she made people listen. In her work with the United Nations and its many partners for so many years she gave social work a voice far beyond what our size should indicate. And she as at ease everywhere, be it in the slums or in the polished international meeting rooms, treating everybody with respect and dignity. Ellen will stay an inspiration and a role model. I deeply mourn her passing away and will forever keep her present in my memory.
From Terry Bamford, IFSW Representative to Amnesty International and Past Secretary of the Human Rights Commissioner
Ellen was an inspiration to so many people. Her service to IFSW embraced many different roles. Her links with international organisations in Geneva meant that IFSW consistently punched above its weight in the NGO community. I first met Ellen in 1976 in Puerto Rico just after Andy had taken over as Secretary-General. Her boundless energy and enthusiasm were evident then. Human rights were a consistent theme in her wide ranging international involvement. The Federation owes her a huge debt of gratitude and mourns her passing. – Terry
From Sue Dworak-Peck, past IFSW Global President
What a loss! Ellen was not only a great leader and architect of IFSW, but she was also a global humanitarian and wonderful friend to so many of us. Ellen, we will all miss you very much! – Sue
From Nigel Hall, past Regional President Africa
Very sad news indeed of the passing of Ellen who did so much, as associate Secretary-General with Andy in helping our organisation get off the ground and then all the work that she did in the United Nations system, working for child rights and birth registration. As you say IFSW owes her a huge debt of gratitude for everything that she did over such a long period of time and she will be very much missed. – Nigel
From Fiona Robertson, past IFSW Treasurer
I first meet Andy and Ellen at the Israel Conference and over the  years have appreciated her knowledge and diplomacy about social issues and especially IFSW. Also her support on a personal level. Ellen is what we call in NZ a 'taonga'  which means much treasured. – Fiona
From Tobais Roosen, IFSW Representative to The UN, Geneva
 I would like to let you all know my very deep regret that Ellen passed away!

But to forget about her is impossible. I was fortunate to have known her and to be mentored by her as she introduced me to UNO, to represent IFSW. I first met her on our 50th anniversary in 2006 at the joint conference in Munich, and some other times since.

She did very good networking, has been very active in preparing the Convention on the Rights of the Child, CRC and in the years since it came into power, as well on its following protocols. She did not rest to make the world a better place for children – all around the world. And has IFSW ever been that close involved, as she was in preparing this UN-Convention?

Her expertise also was very much asked in Eastern Europe, after 1989 as she told me. She worked on Social Work issues and in the interest of IFSW, with easiness and elegance, as if everything would just have been a dance. Therefore she will be kept in mind, as a unique, very strong and sedulous woman, as well as we owe her our esteem and deep gratitude, as she will remain as highlighted paradigm. With some sadness, yours sincerely. – Tobias
From Cristina Martins, IFSW Regional President Europe.
Very sad news.

I met Ellen since I start representing Portugal internationally. Could speak with her in portuguese, her mother tongue. Ellen was an amazing women so beautiful and elegant and with such an unique life experience and knowledge of life and social work. I will miss her very much. – Cristina
From Daniel Asiedu, IFSW Regional President Africa.
It came as a shock to me when Ruth broke the news about Ellen's untimely death. I was devastated by the news because I had connected with her on LinkedIn only a week or two ago.

Ellen has been someone I have had great respect and admiration for since meeting her in Brazil in 2008 as a member of the IFSW Executive board. I had a privilege of engaging in a personal chat with her and got to know that she was born in Brazil.  She came across to me as a simple, unassuming, hardworking and very intelligent woman. One thing I will always remember her for is her amazing dress sense, her age notwithstanding. Ellen loved life and carried herself gracefully. Ellen was a nice and a loving person and anybody could relate to her. Her commitment to the IFSW was unsurpassed. Even at her advanced age she was prepared to assist in the translations and did it so well to the secret admiration of many of us.  I will surely miss Ellen. We have lost a social work icon and a gem. IFSW and the global social work fraternity have lost a great woman, a role model, an advocate for the vulnerable and disadvantaged and a great friend May her soul rest in perfect peace. – Daniel
From Klaus Kühne, IFSW Main Representative to The United Nations Geneva
Nous sommes tous tristes d'avoir perdu Ellen Mouravieff-Apostol, une amie, qui a été si importante pour le développement et pour la croissance de notre organisation, la Fédération International du Travail Social. Pendant beaucoup d'années Ellen a inspiré des générations de travailleurs sociaux au niveau mondial avec son exemple de dévouement et son grand engagement pour la cause des enfants défavorisés de ce monde, mais aussi avec sa personnalité sa ténacité liée à une amabilité souriante. La FITS prépare sur sa page internet un site de mémoire et de reconnaissance pour Ellen. Elle vivra dans notre organisation tans qu'il y aura des souvenirs plein de reconnaissance, d'admiration et d'amitié.

Comme représentant de la FITS aux Nations Unies à Genève je dois beaucoup au soutien et à l'introduction d'Ellen qui m'a précédée dans ce poste. Elle m'a aidé à trouver une voie dans cette grande organisation compliquée et toujours à nouveau je suis étonné combien de personnes de différentes organisations se souviennent d'elle avec sympathie et reconnaissance.