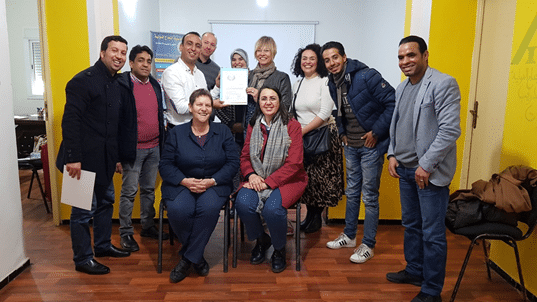 The Moroccan association AMAS is still young, just like social work education in Morocco.
There are lots of connections between the Netherlands and Morocco, mainly because many Moroccan labor migrants and their children and grandchildren live in the Netherlands. Now both social work associations have decided to start a "twinning" to inspire each other. The still young association can be supported from the Netherlands, and Dutch social workers can learn from work in different circumstances and how to set up initiatives were governmental support is lacking or only providing a part of what is needed. The Dutch can also learn more about the background of Moroccan families in The Netherlands. Together we can learn from each others' professional approach.
During a recent visit in March by Dutch BPSW members to colleagues in Fez, Morocco, a cooperation contract was signed as the start of mutual support and inspiration. The Dutch delegation was very impressed by the commitment and enthusiasm of the social workers in Morocco, where they have to work with fewer resources. The intention is also to organize study trips in collaboration with the social work educational institutes.