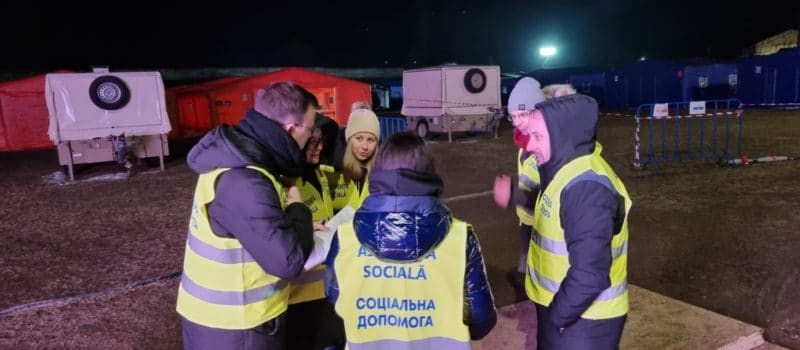 IFSW Europe hosts a webinar on the 15 March 2022, World Social Work Day, at 18.00 CET
REGISTRATION IS NOW CLOSED
The link for the webinar has been sent to all registered participants by email. If you don't see it in your inbox please check your spam folder.
Please, write to is you want to be added to the waiting list
Our colleagues in Romania, Poland, and Slovakia and other countries in the East of Europe have responded directly to the growing humanitarian crisis caused by the invasion of the Russian military.  They are working long hours in very difficult circumstances with other services at their border with the Ukraine to offer help to individuals and families.
Thousands of mainly woman and children have fled the fighting in fear for their lives.  Thousands more are likely to follow in the coming days and weeks.  All are now suddenly refugees, often with few belongings and deeply traumatised by the terrible events inflicted upon them.  Many are sick and in need of urgent medical attention.  Many are without documentation because of the speed of the terrible events.
Respect for and the promotion and defence of human rights are fundamental to social work.  Responding to the needs of people in vulnerable situations is also a core element of social work.  In this context, social workers across the rest of Europe (and elsewhere) will be wondering how can they help; asking what can they do?
The webinar will give us an opportunity to hear the experiences of some social workers who are directly involved in assisting these adults and children at the border with the Ukraine.
Ana Radulescu. IFSW Europe President
John Brennan IFSW Europe Vice-Ppresident
Tetyana Semigina and Anna Slozanska.Ukraine Social Workers
Herbert Paulischin Austrian SW Association. OBDS
Bulcsú Mihály Hungarian SW Association. SZMME
Marcin Boryczko Polish Federation of SW. PFZPSiS
Edward Lucaci Moldovan Social Worker
Adriana Salcianu.  Romanian Association of SW. ASproAS
Moderator. Rory Truell IFSW Secretary – General
The webinar will also offer an opportunity to hear what is the best way we, as IFSW European social work colleagues, can support them in their work.
The webinar will also give you an opportunity to ask questions and to offer suggestions about what social workers can do
A webinar link will be provided on the day.
PLEASE SPREAD THE WORD TO COLLEAGUES IN YOUR NATIONAL ASSOCIATION AND JOIN US ON THIS IMPORTANT WEBINAR
This webinar is one of a number of activities that IFSW Europe will organise in the coming days to assist these social work colleagues in a meaningful, tangible way.
Go to the IFSW Europe webpage at www.ifsw.org for updates on our actions/activities.