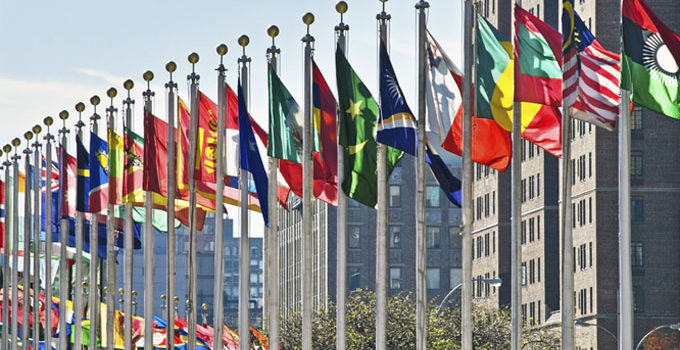 IFSW and the United Nations – ECOSOC and CoNGO – a long and lively partnership
On October 24 in 2015 the UN celebrates 70 years since the founding in 1945. IFSW was founded in 1956 and applied for and received ECOSOC (UN-Department of Economic and Social Development) – Status at the UN in 1959. There has been a long partnership and cooperation between the UN and the social workers on the highest international level. What does this mean? IFSW has special consultative status at the UN and at the UN-Department for Social and Economic Development.
What is the benefit for NGOs?
NGOs that are accredited with ECOSOC can participate in a number of events, including, but not limited to regular sessions of ECOSOC, its functional commissions and its other subsidiary bodies. NGOs may:
• Attend official meetings;
• Submit written statements prior to sessions;
• Make oral statements, even speak at the General Assembly
• Meet official government delegations and other NGO representatives;
• Organize and attend parallel events that take place during the session;
• Participate in debates, interactive dialogues, panel discussions and informal meetings.
Special consultative status is granted to NGOs which have a special competence and are concerned specifically with the fields of activity covered by the ECOSOC. This applies to IFSW on 43 main issues! These fields mainly cover social development, status of women, sustainable development, commission on narcotic drugs, crime prevention and criminal justice and the permanent forum on indigenous issues. Being part of ECOSOC as a NGO also provides access to the "Conference of NGOs in consultative partnership with the UN" called CoNGO.
CoNGO: Bringing NGO expertise to the United Nations
CONGO's vision is to be the primary support and platform for a civil society represented by a global community of informed, empowered and committed NGOs that fully participate with the UN in decision-making and programs leading to a better world, a world of economic and social justice.
Working from its international secretariat offices in Geneva, New York and Vienna, CoNGO is engaged in an ambitious outreach program, providing more support for NGOs at regional and national levels to enhance their involvement with the United Nations, through new partnerships, regional consultations and co-sponsored events. Since 1948 CoNGO's mission is to facilitate the participation of NGOs in the UN system. Working to ensure that NGOs have adequate access to UN meetings, conferences, special events, and documentation is a central CoNGO activity.
CoNGO members and the larger NGO community work together through these committees to share information, to cooperate on substantive issues and to bring NGO expertise into the discussions of governments in UN fora. CoNGO's NGO Committees work on issues of Ageing, Development, Disarmament and Peace, Environment, Human Rights, Rights of Education and Learning, Status of Women, Youth, Family, Children Rights, HIV/AIDS, Mental Health, World´s Indigenous People, Migration, Sustainable development, Narcotic drugs, Crime Prevention and Criminal Justice, Freedom of Religious beliefs, Spirituality, Values and Global Concerns.
The committees are independent and organize themselves, receiving support from the UN- committees and UN-facilities.
12 IFSW-Representatives are engaged in these activities to emphasize social work expertise and solutions. You can read about the IFSW-UN-Crew here ( Link: http://www.ifsw.org/un-representation/)
At the General Assembly of CoNGO in April 2014 IFSW was represented and IFSW ´s work at CoNGO was very much recognized and more than four members nominated IFSW for the Executive Board. Finally IFSW was elected as member of CoNGO Executive for the period of 2014-2017. It is a very special honor to do this work and participate in the global initiatives at the UN, ECOSOC and CoNGO together with the representatives in New York, Geneva and in Vienna.
Maria Moritz, Vienna, Austria
The most important upcoming conferences with access for NGOs will be:
2014
• 22-23 Sept. UN World Conference on Indigenous Peoples in New York
• 6-10 October: Conference of the States Parties to the UN Convention against Transnational Organized Crime, 7th Session (Vienna International Centre) Organizer: UN Office on Drugs and Crime (ODC)
• 20 October-7 November: 59th Session – Committee on the Elimination of Discrimination against Women (Geneva)
• 4-7 November: CoNGO Executive Meeting (Geneva)
• 10 November: CoNGO Vienna Substantive Committee on the Family (Vienna, Austria)
• 20 November: 25 Anniversary of Adoption of Convention on the Rights of the Child (New York)
• 26 November: CoNGO Vienna Substantive Committee on Ageing (Vienna, Austria)
• 4 -5 December: UNODC: Joint Meeting of the UN Commission on Narcotic Drugs, reconvened 57th session, and UN Commission on Crime Prevention and Criminal Justice, reconvened 23rd Session, UNODC Commission on Crime Prevention and Criminal Justice, reconvened 23rd Session continued (Vienna, Austria)
2015
• 2015 Seventieth Anniversary of the United Nations Organization (UN HQ New York City)
• 14-18 March: UN Third World Conference on Disaster Risk Reduction (Sendai, Japan)
• 27-29 April: Women's International League for Peace and Freedom. WILPF 2015 Conference: "Women's power to stop war" (The Hague, Netherlands)
• 7-9 June: Organization of American States (OAS), General Assembly (Haiti)
• 13-16 July: Third International Conference on Financing for Development (Addis Ababa, Ethiopia)
• Date to be confirmed:
• World Conference on Women: Beijing+20 Campaign
• World Summit on Social Development-Copenhagen+20
• Thirteenth UN Congress on Crime prevention and criminal justice (Doha, Qatar)
2016
• 23-27 May: Second United Nations Environment Assembly (Nairobi, Kenya)