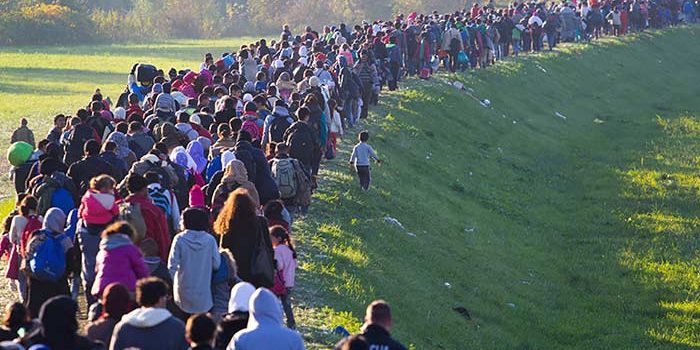 No-one chooses to be a refugee
Children, adults, families and communities seek refuge from disasters, climate change and inhumane abuse of power and control. This is not a journey of choice. They suffer trauma from the forced circumstance in which they find themselves. They are on a journey experienced by many victims of harm and abuse.
We hear the politicians pontificate about how the imposition of people who are destitute impact on the resident population. The demarcation of the diversity of our groupings within our societies – ethnic, cultural, sexual, economic and spiritual – amongst the readily identifiable group terms we use to discriminate – reinforce the ability of those in the positions of governance to manipulate civil society to one view or another to make the disturbance of the status quo a major task for those of us working for the respect of human rights and social justice a path fixed with many hurdles to climb over.
Many of us in the social work profession will be taking time today to take part in focusing on the importance of the homage we pay to people who are travelling their traumatic journey through the changes forced on them by all the causes that lead to becoming a refugee. They are the experts through experience who can help us understand how we can best use our skills, knowledge and expertise in working with people to find that safe refuge, to rebuild their lives to become included, contributing members of our communities. Research firmly indicates that refugees bring net income to local economies, a fact often skimmed over by politicians in their ambition to secure votes for their next election victory.
Today let us focus on how we can work towards influencing that public opinion that enables President Trump to separate children from their families on the Mexican border, in contravention if UNCRC; that supports Prime Minister Benyamin Netanyahu in the increasing number of Palestinian refugees seeking refugee status in neighbouring countries; that supports the Saudi and Iranian interventions in the Yemen, the devastation compounded by the intervention of Russia, USA and others in destroying the homes of Syrian families; the conflicts, disasters and climate change, often exacerbated by human intervention, in Africa and Asia that force people to abandon their homes, families and destroys their source of work, just to be able to survive.
In discussion with my 17-year-old grand-daughter tonight at the dinner table she commented "everyone seeks refuge at one time or another in their lifetime, this is something we all share". How do we all understand that trauma? What helps any of us traverse that particular path of our journey through life? How do we use that knowledge in working with others on that path through such traumatic forced change? Let us together put the humanity, the social, the human relationship back into social work; we owe it to ourselves and to the people with whom we work to create transformational change to build our communities that support us all through the trials and changes in our lives.